To filter articles by a specific event, use the dropdown below.
This past weekend, Phenom Hoops traveled out to Carolina Courts in Concord, North Carolina for a closer look at some of the young up-and-coming talent from around the area. We attended both Saturday and Sunday, and this article will list some personal standouts from the event… 6'4 '25 Sadiq White (Underrated Athletes) There were a lot of enticing standouts on display, but White was arguably in a...
read more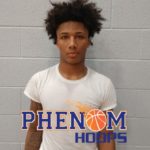 Phenom Hoops went out on the road again, just checking in on another open gym. Always an exciting time for us, as we get to see what teams are shaping up to look like heading into the season but also learn a few new names. Lake Norman Christian has been a HOT name over the last few months and Head Coach Mason Padgett has a ton of talent for him on the floor. They brought in a lot of Division I...
read more