Team 6
Coach: Blake Walker
#9: 5'0 '25 Kamari Curtis (Graniteville)
Starting things off, we look at a player that knows how to work hard and make his presence felt on both ends of the floor, Kamari Curtis. He's an unselfish, high-motor guard prospect that worked well without the ball as a spot-up threat from beyond the arc. Curtis is also a quality on-ball defender with nice positioning. Next in his development process is working on the use of his off-hand, as it would make him a more lethal ball-handler. Coach Walker on Curtis: "Kamari loves the game. His passion and work ethic was outstanding. In our first game, he hit a game winner. He dove for loose balls, rebounded well for his size, and was very unselfish. This will carry him a long way. His game will blossom with consistent work on ball-handling and shooting. It was an honor to coach this young man. He moved well without the ball and, as he plays more and more basketball, will begin to see giant improvements in his game." Curtis enjoyed a very nice showing at camp and could be a prospect to watch throughout his continued progression.
#14: 5'2 '26 Talon Staley (Blythewood)
Next, we look at a player that was arguably the most advanced, intelligent playmaker on display, Talon Staley. He's a young, wiry guard prospect with an unbelievably high IQ and the ability to set up his teammates on every possession. Staley simply sees the game ahead of other players, especially at his own age, and always knows what to do. Next in his development process is working to add strength, as it'll make him a more physical presence with the ball in his hands. Coach Walker on Staley: "Talon is a coaches gift. His IQ and feel for the game is above his years. His tight handle along with his court vision allows for his success on the court. He is a high quality guard, very unselfish, and plays both sides of the ball. What impressed me the most was his positive attitude and maturity. As he continues to grow and add strength, he will be a very fine player." Staley was undeniably impressive during camp, securing the Mr. Station award with relative ease, and should be one to watch closely going forward.
#22: 5'4 '25 Bryson Drummond (Simpsonville)
Moving onto a player that was able to consistently affect all facets of the game during camp, Bryson Drummond. He's a big, strong-bodied wing prospect that handles the ball, creates for himself and others, and displays a nice two-way feel for the game. Drummond utilize his body very well to clear out space, secure rebounds, and push the break in transition. Next in his development process is working on his ability to move without the ball, as it would allow him to find even more scoring opportunities as a cutting threat. Coach Walker on Drummond: "Bryson played extremely hard today. His power and strength allowed him to flourish inside. He has a nice shooting touch. Bryson rebounded well and shared the ball. He is a great teammate and is very coachable. He rarely takes plays off. With constant work on his skill, I can see him blossoming into an elite player. He showed that hard work and heart can win ball games. He received game MVP in our first contest and it was a unanimous vote." Drummond enjoyed an excellent showing at camp and has all the tools to become a great high school prospect.
#29: 5'5 '25 Christopher Curry (Florence)
Continuing onto a player that was able to offer his team with a pretty active, useful two-way presence, Christopher Curry. He's a long, wiry guard prospect with a tight handle, strong penetration sense, and the ability to utilize both hands as well as anyone at camp. Curry is a quality teammate that shows a willingness to make the extra pass whenever available. Next in his development process is working on his overall shot mechanics, as it would likely make him a more consistent perimeter shooter. Coach Walker on Curry: "Christopher has a nice feel for the game. He's crafty, can penetrate, and handles it well. He takes and makes the open shot and does a solid job at getting his teammates involved. He was able to showcase his grit on defense. When motivated and not overthinking, he is at his absolute best. He can continue to work on keeping it simple and making the best play." Curry quietly went about his business during camp and enjoyed a pretty productive showing as a result, so it'll be interesting to see his progression going forward.
#48: 5'8 '25 Tyson Ray (Irmo)
Next, we look at a player that was arguably the most lethal shooting threat on this team, Tyson Ray. He's a long, wiry wing prospect that knows his identity extremely well as a three-level scorer and spot-up threat. Ray moves well without the ball, but can also create for himself or others off the dribble while containing his assignment effectively on defense. Next in his development process is working to become quicker, as it would make him a better penetrating threat. Coach Walker on Ray: "Tyson has a very smooth game and is very skilled. He has a nice jumper and is aggressive at going to the rim. His court vision kept the defense guessing on what he would do. With constant work on quickness, rebounding, and athleticism, he's going to take his game to the next level. He had a great attitude, was coachable, and made the right plays. I'm looking forward to his growth as a player." Ray displayed a lot of appeal during camp and should have folks excited for his continued growth.
#54: 5'10 '26 Treven Raymon (Rock Hill)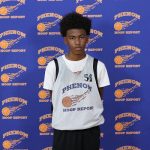 Finishing up, we look at a player that possesses an exceptional crossroads between productivity and long-term upside, Treven Raymon. He's a long, wiry, athletic forward prospect that already knows how to affect the action on both ends of the floor. Raymond moves very well for his size and was able to alter an abundance of shots around the basket. Next in his development process is working on his involvement as a rebounder, as he has the necessary tools to control the glass on both ends. Coach Walker on Raymon: "Treven has a long frame with tremendous upside. He gets to the basket at will and anytime he wants. He has a nice jumper, inside and out. He showed a variety of moves on offense. Defensively, he was able to help in the passing lanes and block shots with his long arms. He will become a threat on both sides of the ball with consistent work. When motivated, he's a force to be reckoned with. Once his athleticism kicks in, he will become a great talent." Raymon is truly just beginning to scratch the surface of his long-term abilities and will be worth monitoring over the coming years.