Over 6,000 fans braved the chilly temperatures of a December Saturday night in Virginia's capital city for one of the hottest tickets in high school basketball, a matchup between perennial Virginia basketball powerhouse John Marshall High School and nationally ranked Sierra Canyon High School from Chatsworth, Los Angeles (CA).  Sierra Canyon is a prep school that participates as part of the California Interscholastic Federation Open Division.  The school houses grades K-12 and opened its high school in 2006 and has established a rich basketball tradition, elevating its profile with the arrival Marvin Bagley III who transferred there in 2016.  After a year at Duke, Bagley was the 2nd player chosen in the 2018 NBA draft by the Sacramento Kings.  The school's alumni include Corrine Fox the daughter of actor/comedian Jamie Fox, singer/actress Willow Smith the daughter of actors Jada and Will Smith and several celebrities and celebrity siblings including the children of stars Sean "Diddy" Combs, Kevin Hart, Dr. Dre not to mention the son's of basketball stars Lebron James and Dwayne Wade whose sons highlight the current Sierra Canyon roster loaded with division 1 prospects.  Sierra Canyon is the defending CIF Champions having won back to back titles in 2018 and 2019 with a roster that featured current Duke freshman Cassius Stanley, IMG's KJ Martin, son of former NBA star Kenyon Martin, Vanderbilt's Scottie Pullen, Jr son of the NBA Hall of Famer, and Arizona's Christian Koloko.  Head Coach Andre Chevalier has put together a challenging schedule for this year's team hoping to prepare his talent-laden roster for college and to prepare them for another state title run.  In addition to Bronny James, son of NBA star Lebron James and Zaire Wade, whose Dad is NBA great Dwayne Wade, the current roster features Kentucky commit Brandon Boston, Jr, 7'3 center Harold Yu a foreign exchange student from China who holds an offer from California, Terren Frank who will play his college basketball at TCU and five-star sophomore guard Amari Bailey.  Not eligible until December 30th after transferring from Sherman Oaks Notre Dame is 6'8 Zaire Williams who is listed as the #2 prospect nationally in the class of 2020 by several media sources.  The team aptly nicknamed the Trailblazers is in the midst of a national tour playing in front of sellout crowds at venues across the country and even showcasing their talent in China.  The Trailblazers stop in Richmond was the foundation for a day-long event known as the Above the Rim Classic featuring top players and teams across Virginia as an undercard of sorts to the big matchup between Sierra Canyon and John Marshall High School. 
Fans lined the sidelines of the 6,000 seat Arthur Ashe Athletic Center in Richmond for an event that even attracted Petersburg VA native and nationally acclaimed singer/songwriter/actor Trey Songz and Virginia's Lieutenant Governor Justin Fairfax!  For fear of not getting into the sold-out event or even finding parking, fans began piling in several hours earlier and saw some of the state's top teams and top talent in action for an impressive and competitive schedule that more than complimented the much-ballyhooed grand finale. 
The daylong event tipped off at noon as Henrico High School battled Matoaca High School.  Henrico 6'3 senior guard ZyEver Wingfield blistered the nets with 10-17 shooting and scored a game-high 24 points in an 86-64 win.  6'1 senior guard and 2019 Virginia High School League All-State selection Jahme Ested who holds a Virginia Union offer added 23 points and 7 assists as Henrico shot over 61% for the game.  6'2 senior Jeremiah Langley scored 8 points but added 11 rebounds and Henrico outrebounded Matoaca 30-13 for the game.  6'1 junior guard Zakari McQueen (21 points) and 6'5 senior Michael Mahone (16 points) led Matoaca.
In game two the Kempsville Chiefs got 26 points from 6'4 junior guard Dominic Stanford and held off a scrappy Louisa Lions team that reached the VHSL Class 4 state title game a year ago.  Sophomore guard Elijah White added 11 points; all in the second half as Kempsville held on for a 58-52 win.  All-State guard and two-sport standout Jarrett Hunter led Louisa with 21 points, 5 assists.
Game three saw a talented and deep Norview High School team jump to a 44-26 halftime lead as they smothered Carolina Basketball Academy from opening tap to the final buzzer.  6'4 senior wing Jahn Hines led three Norview players in double figures with 25 points as the Pilots cruised to a 72-50 win.  Lightening quick senior point guard Jamaal Madison scored 21 points and dished out 6 assists while 6'4 junior Jaylani Darden chipped in 11 points and keyed Norview's full and half-court defensive pressure.
The Phoebus Phantoms got 19 points from senior guard Mahir Sharif and 13 points from senior Nasir Craven as they toppled Petersburg High School 66-55 in game four of the five-game extravaganza.  The Phantoms outrebounded Petersburg 31-17 in the game with Jeremiah White (8 rebounds) and Hakeem Zarif (6) leading what was a solid team effort on the glass for the undersized Phantoms.  Petersburg put three players in double figures led by 6'2 junior Jaden Walker with 19 points on 5 of 7 shooting, 3-3 from deep.  Senior guard Milton Coles added 11 points and 6'4 junior Joseph Briscoe contributed 10 points for Petersburg.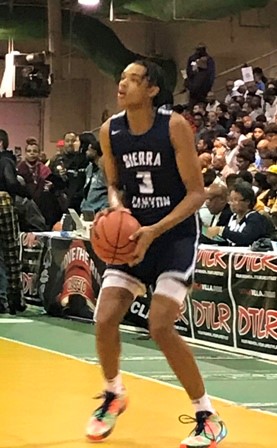 The much anticipated final featuring Sierra Canyon and John Marshall featured a lengthy pre-game and fans were treated to a dunk fest in both layup lines but of course, the visitors from the Golden State drew much of the attention as fans jockeyed for position close to the sidelines and baseline for camera angles.  The game was further delayed as the public address announcer pleaded with the capacity crowd to return to their seats and keep the aisles clear.  When we finally tipped off both teams started cold and the clock ticked for nearly three minutes before the first basket was finally scored thanks to a Dana Woodley jumper with 5:01 left in the first quarter giving John Marshall a 2-0 lead.  Sierra Canyon's game-opening drought lasted until the 3:46 mark of the opening quarter before a Terren Frank layup got them on the board.  The star in the early going was not among the most talked-about players coming in but a little known 6'1 sophomore sharpshooter for John Marshall High School named Reginald Robertson!  Robertson connected on back to back three-pointers to help John Marshall to a 10-2 lead with 2:59 left in the first quarter before Sierra Canyon got rolling.  Led by an acrobatic finish by Amari Bailey and more above the rim finishes by Brandon Boston, Jr, the Trailblazers went on a 9-0 run and cut the John Marshall lead to a single point, 15-14 by the end of the first quarter.  The second quarter was nip and tuck with several lead changes and a look of a thriller developing but troubles mounted for John Marshall High School in the meantime as 6'10 junior center Roosevelt Wheeler found himself saddled with three fouls and was confined to the bench for parts of the second and third quarters.  Two quick foul calls drew some boos of dismay from the capacity crowd who was looking forward to the battle between John Marshall's 6'11 big man Roosevelt Wheeler who holds a number of high major offers and Sierra Canyon's 7'3 Harold Yu.  The fans wanted the referees to allow it to be a little more physical!  The Justices were already without one of their top scorers and defenders as Elijah Seward has been out with a knee injury.  He is key for them on both ends of the floor!
Sierra Canyon managed to pull ahead late and led John Marshall at the half, 29-26.  Reginald Robertson's four three-pointers gave him a game-high 12 points at the half while Sierra Canyon was led by Brandon Boston's 11 points.  We were just twenty-seven seconds into the third quarter when Roosevelt Wheeler was whistled for his fourth personal foul forcing him to watch from the bench for much of the quarter while Sierra Canyon pulled away outscoring the hometown Justices 21-9 in the pivotal third quarter.  Sierra Canyon pulled ahead 33-26 on a three-point play by Brandon Boston with 6:12 to go in the third.  Boston scored back to back, one was a nasty rim rocking stick back slam that sent the crowd into a frenzy with 2:17 left in the quarter increasing the Trailblazers lead to 38-26.  The University of Kentucky commit buried a three-pointer with 1:05 left in the third and Sierra Canyon led 48-33.  Jason Nelson sliced his way to the paint and found Roosevelt Wheeler for the two-hand slam for John Marshall but Terren Frank answered with a pull-up jumper for Sierra Canyon to get the lead back to fifteen, 50-35 in the waning seconds of the third quarter.  With 6:31 left in the fourth quarter Bronny James with a nice drive and dish found Shy Odom cutting to the rim giving Sierra Canyon their largest lead of the game 54-37.  The fourth quarter saw John Marshall's highly touted 6'6 freshman guard Dennis Parker begin to assert himself.  With 5:27 to play Parker fought through contact from Terren Frank and Brandon Boston, Jr for a basket and completed a three-point play.  A pair of strong drives to the rim by Parker forced fouls on Boston and Bronny James on consecutive possessions resulting in free throws and the freshman showed plenty of fight trying to rally John Marshall. 
Sierra Canyon's lead was never challenged down the stretch thanks in large part to a 31 point effort from Brandon Boston, Jr who showcased his tremendous athleticism and elite-level talent throughout and John Marshall simply had no answer.  Boston finished with 31 points on 11-14 shooting, 4-7 from beyond the arc and he also grabbed six rebounds.  Terren Frank added 14 points and 8 rebounds and Harold Yu dominated in the paint grabbing 13 of Sierra Canyons 40 rebounds!  Reginald Robertson led John Marshall with 14 points but scored only two points after halftime.  Dennis Parker scored 13 points for the Justices in defeat. For Sierra Canyon the road show continues after the Christmas break!  They will be playing in one of the country's top post holiday events, The Classic at Damien which is a four day event featuring 80 teams including top teams from Hawaii, Oregon, Nevada and throughout California.