Double Double Guys
One of the marque signature achievements in playing basketball is the "double double." This is where a player averages in double figures in two categories. It's a pretty difficult achievement, but this year in North Carolina, we have a list of players that exceeded beyond the bare minimum of reaching such a milestone. We want to take a closer look at some of the players we have seen personally on numerous occasions.
(Listed alphabetically)
6'8 2020 Alex Holt (Lexington HS, Lexington, NC)
Scoring: 17.9 PPG Rebounding: 17.7 RPG
We were fortunate to see Alex Holt countless times last spring and summer. We're talking about a true post player that knows and understands his role. Holt has passer friendly hands, nifty footwork in the paint, and most of all is a willing passer out of the post; where he works hard to reset low post position. He is a strong two-handed rebounder and sports a soft shooting touch around the rim. Holt currents sports offers from High Point University, Presbyterian, New Hampshire, Radford, Catawba, Wingate, and Lander
6'5 2020 Drake Maye (Myers Park HS, Charlotte, NC)
Scoring: 16.1 PPG Rebounds: 11.3 RPG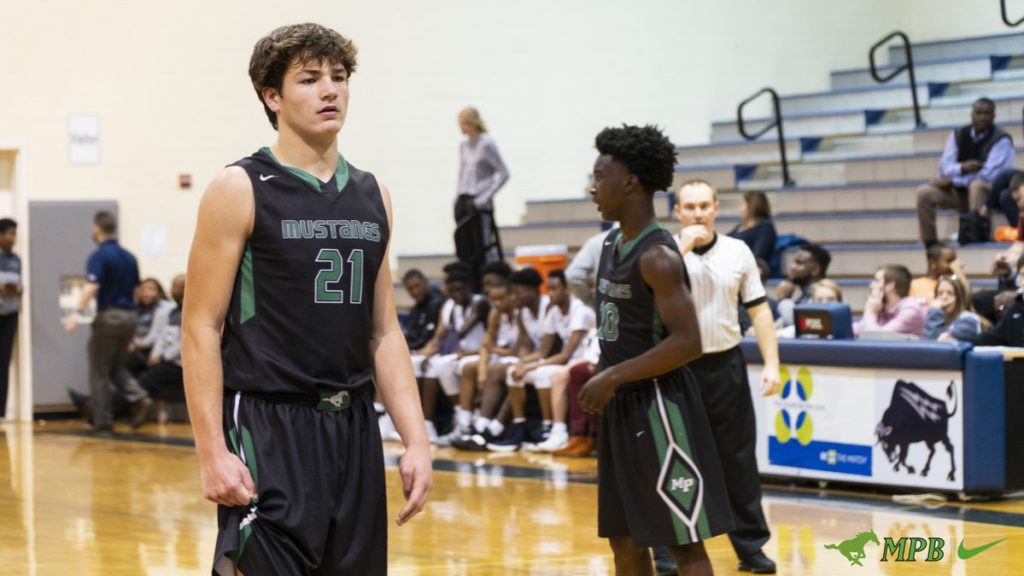 Drake Maye is a two-sport star and listed as one of the premier quarterbacks in the country. Originally committed to Alabama for football, he recently decommitted and verbally committed to UNC. Don't be surprise if you see Maye on the hardwood as well as the gridiron. Maye simply has impeccable basketball instincts and an advanced skill set and if football was not his main priority, we personally think Maye would have been a hot basketball prospect at the mid-major level.
6'3 2021 Elijah Jamison (Louisburg HS, Louisburg, NC)
Scoring: 29.7 PPG Rebounds: 12.3 RPG
Simply put, Elijah Jamison is wired to score and there is not a better rebounding guard in the state, regardless of class.  Jamison is best going downhill attacking the rim. Jamison has improved his perimeter shooting and has become more effective as a scorer at all three levels. Currently, Jamison sports offers from Ole Miss, Elon and James Madison. 
6'4 2020 Lane Harrell (Cherryville HS, Cherryville, NC)
Scoring: 30.2 PPG Rebounds: 13.2 RPG
Lane Harrell is your classic "throwback" player. He is fundamentally sound, has a high basketball IQ, but does has a unique feel for the game. We're talking about a coach's son who is a coach on the floor. He understands the game and thinks one step ahead of the other players on the court, not to mention we're talking about a young prospect that plays with maximum effort and energy each and every possession.
7'0 2022 Patrick Wessler (Butler HS, Matthews, NC)
Points: 18. 1 PPG Rebounds: 11.8 RPG
It's not often you find a 7'0 sophomore player that has the basketball IQ, skillset and advanced understanding of the game. The southpaw has a soft shooting touch and can step out effectively and hit the midrange jumper. Wessler has extremely "soft" passer friendly hands, excellent footwork in the paint, and does a great job of rebounding with two hands and keeping the ball high above this head. In addition, he is highly effective at the high post with his vision and passing ability. Wessler currently sports an offer from Elon, but look for that list to grow sooner rather than later.
6'9 2021 Will Felton (Millbrook HS, Raleigh, NC)
Points: 19.8 PPG Rebounds: 11.2 RPG
For Will Felton, there is no stage too big. At the John Wall Holiday Invitation, Millbrook went up against national power Montverde and Felton came away with another double double. It's one thing getting a double double, but getting it against the likes of Montverde. We're talking about a young prospect that plays with a full throttle approach and will give you maximum effort 100% of the time.