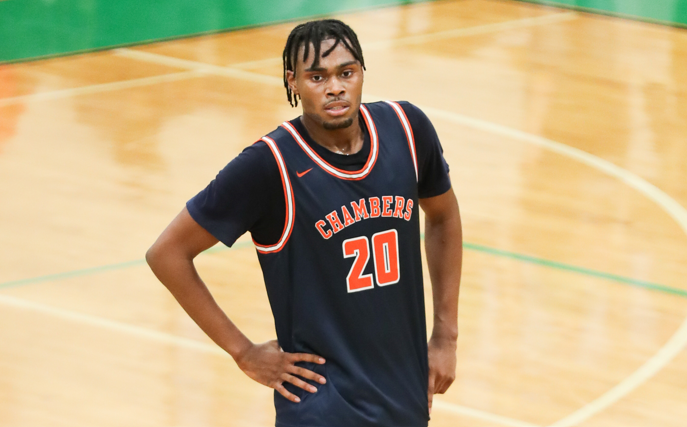 The George Lynch Invitational brought some incredible talent to the court, and one of the biggest storylines that we took away are the players that simply reminded everyone that they should be overlooked and that college programs should be recruiting hard.
One player that is at the top of the list is 2024 Maurio Hanson from Chambers, as he went up against one of the top bigs in 2025 Zymicah Wilkins and Christ School, and more than proved that he belongs. Hanson was incredible and did everything he could do to help his team compete in a tight game. Hanson showed the full arsenal in his game; showing a terrific feel and ability to operate down in the post, his quickness at his size and fluid positional feel, his physicality to attack, finish, and compete offensively and on the boards, his ability to step out and knock down shots, and to be an impact to be a versatile defender at his size/position.
We wrote about Hanson not long ago here: https://phenomhoopreport.com/2024-mauio-hanson-needs-to-be-on-several-coaches-radars/
And it stands true to today after his showing at the event. You can just look at the film and it is easy to say; so college coaches need to be all over Hanson and they should let him get out of this region. He more than proved he can help a program.
What Was Said:
"College coaches, don't let 2024 Maurio Hanson get away. The big man is showing his full game right now in a big way, scoring inside and out, fluid release as he steps out, and impacting down low and on the boards!"
"2024 Maurio Hanson's value cannot be understated, as the senior presents as complete as an offensive game as you'll find in a Forward in North Carolina. Excellent mid-range touch with polished low-post footwork. Will be a great college get."
"Hanson reminded EVERYONE why he should be getting looks from D1 schools, as he was tremendous throughout the game in an intense matchup against one of the top bigs in the state. He was fluid, scored with ease, stepped out and showed his footwork and skillset, as well as bringing a physical feel down in the paint. Hanson should be a target for so many schools, and he showed why on Day 2."