If you look at the August 14th update of the North Carolina 2019 class, one thing is crystal clear. It is absolutely loaded with talent and has tremendous depth. Like so many classes in North Carolina, it is certainly blessed with some high level talent and today we will take a closer look at what we consider to be a "Dream Team" for any college program. https://www.phenomhoopreport.com/rankings/2019-north-carolina-rankings/
6'6 Wendell Moore (Cox Mill High School)
Wendell Moore has been the top prospect in the Phenom Hoop Report 2019 ranking since his freshman season. Three years later, Moore is still on top and considered one of the premier players in the country. In our opinion, Moore has the complete package. He combines an unique blend of athleticism, but has the ability to simply makes his teammates better. Rarely, do you find such an unselfish and humble player on and off the court as Wendell Moore. We have seen him in various settings and always steps up to the occasion. Moore can play and guard multiple positions and has the ability to take over any game at any given time. Go ahead and suit him up for the McDonald All American game! Versatility is his calling card and may be one of the most unique players in the country.
6'8 Patrick Williams (West Charlotte High School)
We have often stated, Patrick Williams is the next professional coming out of the Team United program. First of all, Patrick Williams is young for his grade (Williams will not turn 17 until August 27, 2018) and still doesn't realize how good he can be! Like Wendell Moore, Williams is a high character young man that is as humble as the day is long. We've been a fan of Williams for quite some time and we really believe he is still only scratching the surface on his long term potential. Williams is blessed with tremendous athleticism along with a matching skill set. He has the ability to play "point forward" and has really improved as an efficient 3-point shooter and will only get better and better.  Like Moore, we strongly believe Patrick Williams should be a strong candidate for the McDonald All American game and don't be surprised he has the highest potential of any player nationally in the 2019 class. Some may think his is a strong statement, but don't be surprised if he is a future NBA lottery pick.
6'5 Josh Nickelberry (Northwood Temple)
Shooters translate at every level and Josh Nickelberry will be taking his high powered scoring abilities to the University of Louisville. That being said, he still has some unfinished business to take care of at Northwood Temple and new head coach James Strong. With Nickelberry, we're talking about a highly confidence player who has tremendous 3-point shooting range. He can score from all three levels and may be one of the toughest offensive players in the North Carolina 2019 class. If you play off of him, he will literally bury that perimeter jumper in your face. If you crowd him, he will blow by you and either take it to the rim with a power dunk or pull up and hit the midrange jumper. Nickelberry is a truly gifted offensive player.
6'0 Keyshaun Langley (Wesleyan Christian)
Give me Keyshaun Langley as my starting point guard any day of the week and we'll end up beating 90% of the point guards who may be ranked higher nationally. Langley is a true "team first" point guard and is without question the best on ball defender in the country. In our opinion, Langley is still under the radar nationally as a player. Yes, there may be bigger and stronger point guards, but we absolutely love the defensive tenacity Langley brings each and every possession. He competes on both ends of the court and has won at every level and in our humble opinion, many high major programs are sleeping at the wheel on his recruitment. Winning is his calling card and he's just a winner in my book.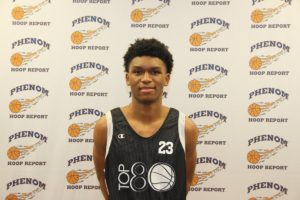 6'8 Greg Gantt (Trinity Christian)
Assistant coach Jeff Battle of Providence made Greg Gantt a priority since his junior year and their patience paid off in securing the commitment from the young and talented combo forward. Gantt is known for his motor and relentless approach on the boards, both offensive and defensive. We have been impressed with his fluidness, agility and mobility, not to mention his athletic ability and matching skill set. He's a great teammate and doesn't demand or dominant the ball. Unlike many players at his position, he doesn't wait on the ball to come to him, he literally goes after each and every rebound. In addition, Gantt makes positive things happen on the court. He's a low risk high return player that will get in the trenches and do all the things necessary to help his team win.
6'3 Caleb Mills (Asheville Christian)
Caleb Mills has been on the Phenom Hoop Report radar since his freshman season. We have often stated he is vastly under-rated and under the recruiting radar. Playing for PSB Elite this summer,  Mills stock went through the roof and was one of the country's hottest scoring guards in the month of July before committing to the University of Houston on his official visit.  Mills is a silky smooth scorer and has the ability to take over the game offensively. He's a prolific and efficient 3-poing shooter and has the grace and fluidness to get to the rim with ease. Mills makes everything look easy and effortless.
6'10 Kadin Shedrick (Holly Springs High School)
No one player has seen their stock explode more than Kadin Shedrick of Garner Road travel ball team. Virtually an unknown in the spring nationally, Shedrick has received 17 plus offers over the summer including the likes of Louisville, Virginia, Indiana, Florida, Wake Forest, Georgia Tech and a host of others. The athletic power forward best days are simply ahead of him. He has continued to improve and get stronger, not to mention his ability to run the floor. Shedrick has excellent hands and nifty footwork in the paint, but most importantly has the ability to step out and hit the midrange jumper.