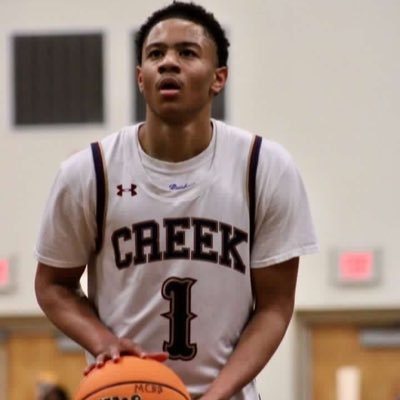 A player that has been making some early noise this summer and is one to start getting to know here in North Carolina, 2026 Rassell Young should be on everyone's watch list for a loaded Class of 2026 here in North Carolina.  Coming off a season at Mallard Creek and now playing with Garner Road, Young has been a hot topic with what he has shown on the court, and we wanted to dive into more of his game, how excited he is for this summer, and his development.
Check out what he had to say in our latest 1-on-1 with Phenom Hoops.
Phenom: How has everything been going this summer for you on the court?
Young: Everything has been going great. I've been putting the work in non-stop, and I've finally got the chance to show it. I just have to work even harder because I want my team to win more. That is the next step for me is winning; I want to win! So, I have to work harder so I can be able to help my team win as much as possible. I wasn't expecting things to happen so soon. I just wanted to go out on the court and have some fun. Thankful for the offers, my coaches, trainers, and supporters who support me. I'm just thankful for the opportunity to be able to play the game of basketball.
Phenom: What has it been like playing with Garner Road this summer?
Young: It has been amazing. They have been showing me a lot of love and they have shown me that they care about their players. I couldn't ask for anything more.  They let me play my game and they have shown me different levels of how to play the game the right way.
Phenom: How has your game developed over the last few months?
Young: My game has developed in many ways. Getting my body right was the main thing for sure, and that is still in the process. But letting the game come to me is a development. I've been patient, just trusting the process, learning the game, and learning from others, coaches, and people who know how to play the right way.  It is so simple once you learn how to master the basics. Knowing my spots on the floor, learning how to shoot anywhere on the floor, being quicker with my feet, and learning how to read my defender.  What I've learned the past few months with basketball is that all you need is confidence and I feel like I've really mastered having confidence and I've been unlocking levels in my game.  But I still don't feel good enough; I'm never satisfied, and I have way more work to do.
Phenom: How would you best describe your game?
Young: I'm a dog. A bucket getter, shot maker, a facilitator that makes things happen. I can get my teammates involved, I have court vision, I can pass really well, and it makes me feel good when my teammates eat too. I describe myself as very crafty and poised, and I get good things done on the court. At times, I lack but I'll try my best to make up for my mistakes.
Phenom: What are your thoughts on the early looks from college coaches and programs?
Young: I'm thankful that they take the time to look at me and notice me when there is a million other kids out there. That is just God looking over me and also me doing my part on the court. I'm happy to even be in the situation I'm in. I just know I have to stay focused and work harder on and off the court, so I can have more opportunities for myself.
Phenom: What is your excitement about the upcoming high school season?
Young: We are going to be way better than last season. I'm very excited. College coaches are going to be at the LIVE periods and everything. I can't wait for it. I'm just excited to be able to play basketball and especially with my high school coach again. My favorite coach ever!