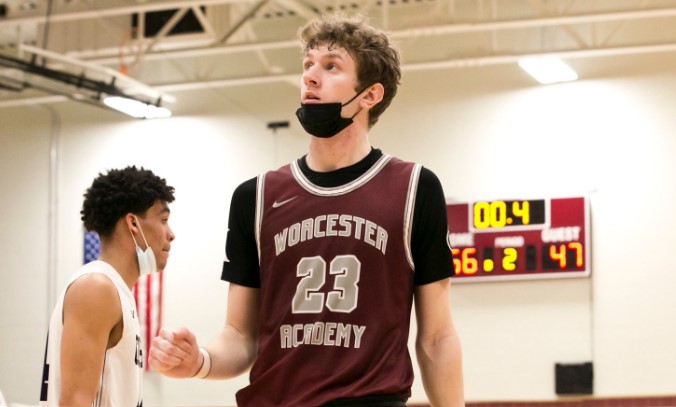 Phenom Hoops continues to bring you all the latest in the recruiting world, this time diving into all the latest with 2023 6'7 TJ Power from Worcester Academy.  Ranked as a Top-100 player in the country, Power has been a hot topic for college coaches as offers have been continuing to roll in.
We spoke to him about the latest, learning how the summer has been going with BABC, his thoughts on the latest offers that he has received, which schools have still been recruiting him hard, some of the visits he has made, and a timeframe of when he may decide.
---
Phenom: How has everything been going this summer for you as far as basketball?
Power: It has been really good so far. I've had a lot of fun playing in the EYBL sessions for the first time and think my BABC team is only going to get better as the weeks go on. I think I'm playing with a lot of confidence and schools have liked that about me and it has boosted my recruitment significantly.
Phenom: How would you best describe your game and how you like to operate?
Power: I think I'm really versatile and create a lot of mismatches at my size. I can handle it and control the floor well. I think my passing is honestly the best part of my game and I've been shooting the ball at a high clip. I would say I'm a point forward who has the ability to stretch the floor and shoot the three.
Phenom: Have you been wanting to show more about your game this summer? Show how effective you can be with your size and in different areas?
Power: I feel good about what I've shown so far. I think moving forward, I want to improve my shot selection and limit turnovers. But I still want to play an aggressive style and help my team win.
Phenom: How have you accepted and adjusted to the attention teams are giving you, ranked as one of the top players in the country, and having the target on your back?
Power: I've definitely accepted it. I think it is just going to challenge me more.  I have some really good players around me out there that share the fight with me and make my life a lot easier.  But I'm definitely not backing down from anyone and I think it keeps me motivated to prove myself against the best competition in the country.
Phenom: Recruitment has been going well for you. Added several offers early this summer.  What have those schools been saying in, general, your way about what they like with your game?
Power: Schools like my versatility and see me playing different positions in their systems.  I think coaches just see someone who understands the game and can do a lot of things on the floor to help the team win.  Schools have really enjoyed my motor and that I always play hard in every game.
Phenom: You added offers from Virginia, Stanford, Indiana, USC, Notre Dame, and Penn recently. Have any of those really been on you for quite some time before offering?
Power: I've talked to Penn a lot in the past. Other than that, those are all new schools.
Phenom: Any of those schools you want to visit or plan to visit?
Power: I want to visit all of them at some point. Right now, I'm setting up dates to get down to Virginia.
Phenom: Any specific time frame for that visit?
Power: Sometime in early June.
Phenom: You held an impressive list before those offers as well, with schools like Xavier, Wake Forest, Virginia Tech, Georgia Tech, Georgetown, Oklahoma, South Carolina, Penn State, Creighton, Iowa, etc.. all offering. Who would you say has really been continuing to recruit you hard since offering?
Power: Iowa, Wake Forest, Virginia Tech, Virginia, Indiana, Stanford, Penn State, Xavier, USC, Notre Dame, Boston College, Providence, and Penn have all been on me hard.
Phenom: Have you made any visits to schools in the past?
Power: Iowa officially. Virginia Tech, Providence, Boston College, and UConn unofficially.
Phenom: How was that official visit to Iowa? When did you go and what do you remember about it?
Power: Last October. It was a great visit. I really liked Coach McCaffery and the culture there.
Phenom: How were those other unofficial visits you took? Does anything stand out about them?
Power: They were all really good. I'm just blessed to be in this position.
Phenom: Do you have any timeframe of when you might want to narrow your list down or decide?
Power: I'll probably cut my list in the fall and decide before my high school season starts.