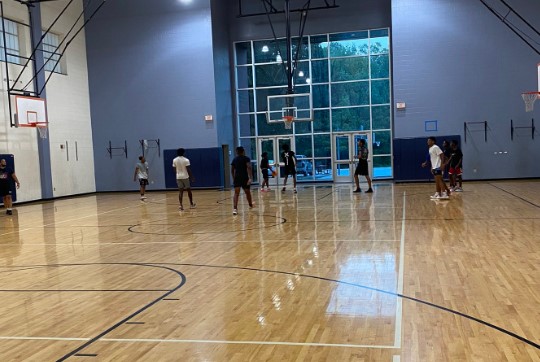 By: Cooper Hart
On Monday evening, Phenom Hoops stopped by Knightdale HS to check out the 2023-24 Knights. Entering his first year, Coach Watson will have a deep group full of athletes to work with.
'24 Khaim Taylor
Taylor will be the main senior leader for this group. He's a strong, athletic guard that defends the point of attack at a high level. He does a great job of making opponents uncomfortable with his consistent defensive presence on and off the ball. His ability to protect the rim as a 6'1" guard is simply unheard of, able to consistently contest and alter shots around the basket with his length, athleticism, and instincts. He gets downhill with relative ease and knows how to finish once around the rim. His shooting ability is coming around nicely as well.
'24 Khalel Sanders
Sanders impressed with his ability to impact every part of the game. He was incredibly consistent with his motor, always playing hard and making an impression on each play. He's a capable scorer and passer but thrives as a defender, rebounder, and screener. He can switch seemingly any position on the defensive end, able to keep up with guards and out-muscle big men. At 6'3", he's a bit undersized at the forward spot, but his motor and toughness on the defensive end will allow him to compete with bigger matchups.
'24 Ibu Adewumi
Adewumi is a nice addition for the Knights as the 6'4" wing transferred from Rolesville over the summer. He's strong and relatively athletic which makes him a matchup problem for most opponents. He's great at getting downhill and finishing through traffic, using his frame and good change of pace to get to the rim. He was a quality shooter and defender that should provide good versatility on both ends, something this roster will be full of.
'25 Isaiah Green
Green stood out as the most dominant scorer in attendance. At 6'1", he has solid size and length at either guard spot and is a true three-level scorer. He shoots it at a high clip and is most effective in catch and shoot situations. He has great body control when finishing at the rim and has surprisingly good burst. He's a quality playmaker as well, able to make good passing reads with consistency.
'25 Jadon Williams
Williams is a stocky point guard with good burst and strength for his position. He understands how to run a team, consistently gets paint touches, and rarely turns the ball over. He defends the ball at a high level, creating problems for opposing guards with his ability to get underneath them and apply pressure. He should provide valuable minutes this year thanks to his low-maintenance approach to the game.
'25 Zarion Williams
Williams is an intriguing big man with developing traits. He's a legitimate 6'6" with plus length and athleticism. He showed consistent flashes guarding the rim, able to block or alter shots regularly. He has a high motor on the glass and seems to be bought into his role as a high motor big. His offensive game is continuing to develop, as he's able to consistently finish around the rim with touch, good body control, and athleticism. He will be a surprise piece this year for the Knights.
DNP
'24 Jason Dickerson
'24 Ilye Paul
'25 Brandon Adams
Other Names to Know
'24 Christian Sutton
'24 Hakime Deme
'25 Sam Thomas
'25 Jamari Williams