To filter articles by a specific event, use the dropdown below.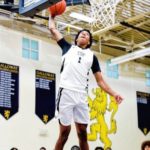 TSF National Christian Wright 6'3 2021 Wright has offers from Iona, USC, and Mt. St. Mary's. He was the leader on the floor for TSF. He got injured halfway through the second half after he went up for a rebound and fell to the ground, smacking his head on the hardwood. But before then he provided strength at the guard position. He has a high basketball IQ and always made smart passes and knew...
read more
6'3 '20 Jules Bikoy (Fork Union) Arguably the most impressive prospect on either team, Bikoy should be a clear priority amongst scholarship-level coaches. He's a strong, physical wing prospect with an excellent motor and a quality feel for the game on both ends of the floor. Bikoy is a useful shot-maker with the ability to spot-up or reliably create for himself or others off the bounce. He's...
read more