STAY POSITIVE CLASSIC EVENT RECAPS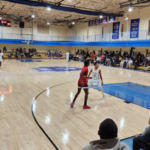 Phenom Hoops headed down past Charlotte to Victory Christian, a team that has been making a lot of noise to start the season and they were looking to continue that success against Providence Day. It was an early battle in the first quarter, with Providence Day holding the 7-4 lead after the first quarter.  2025 Nick Hailey had a good early showing in the first quarter, knocking down shots from...
read more
6'3 '24 DJ Boyce In a world where shooters will always have value, Boyce should be a priority for various programs. He's always been a notable marksman, but it's easy to see how he's developed his identity over the years. Boyce is smart, fairly well-rounded guard with a muscular physique and understanding of how to impact the game as an off-ball threat. He's a solid passer and ball-handler with...
read more