STAY POSITIVE CLASSIC EVENT RECAPS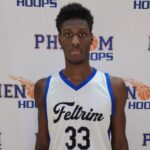 2023 Marcus Overstreet (Feltrim): Overstreet may have been my favorite big man to watch, as he was incredibly productive, showcased his ability and impact at 6'9, and really filled it up around the basket. Overstreet simply catches your eye with his motor and activity around the basket, cleaning up on the glass, scoring effectively at the rim or around defenders, running the floor, and making...
read more
By: Cooper Hart 6'10" '23 Yulian Montero (Florida Coastal Prep) Montero was easily the most intriguing prospect I saw today thanks to his size, mobility, and ball skills. He's 6'10" with a solid frame and plus-level quickness for his position. He displayed smooth and efficient shot mechanics in route to making four threes in the second half. His shooting flow was what made him so remarkable,...
read more