STAY POSITIVE CLASSIC EVENT RECAPS
By: Noah Hooper 6'9 2024 Jarin Stevenson (Team United EYBL 2024) One of my favorite players that I've seen all of session two so far is Jarin Stevenson. What drew my attention to Jarin immediately was how well he was able to put the ball on the deck at his size and age. He also has a smooth-looking jump shot as well, so with his size, and the ability to shoot the basketball, it makes his ceiling...
read more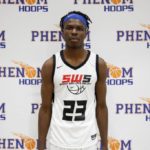 2022 Brady Moore (Louisville Prospects): Moore took advantage of the stage that was set, going for an impressive 20-point performance vs. the Royals. The 6'5 prospect brings a strong frame and plays physical in getting downhill, putting the ball on the deck and finishing well with toughness. Just really like how strong he plays on the court. 2022 Xavier McKelvy (Charlotte Royals):...
read more