PORTER GAUD HOLIDAY CLASSIC EVENT RECAPS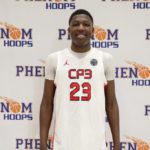 The Chick-fil-a Classic was an outstanding event once again down in South Carolina, as it brought some of the top teams and talent from around the country all under one building. There were several memorable performances throughout the event, and these were just a few names that captured our eyes in certain areas.
read more
Grayson vs. Carmel Christian Grayson came out strong to hold the early lead but Carmel Christian's defense in the second quarter helped them earn a 32-29 halftime lead. Both teams continued to battle in the second half, but the duo of Chauncey Wiggins and Tyrese Elliott helped lead Grayson to a big 65-58 victory between two very good programs. For Grayson, Elliott had a strong showing,...
read more