To filter articles by a specific event, use the dropdown below.
We've seen a lot of players come through our doors over the years, varying in appearance, skill level, and everything in between. We decided to put forth a series on some players who have attended events over the past few years but still remain on the lesser-known side of things, whether by spectators or college coaches. Each of these prospects embody being a student-athlete and getting it done...
read more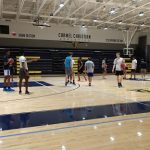 Patrick O'Brien went to Carmel Christian Academy to continue the Phenom Hoops Open Gym, checking out some of the teams around NC early on. See what the Cougars have this season.
read more