To filter articles by a specific event, use the dropdown below.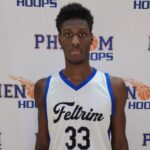 2023 Marcus Overstreet (Feltrim): Overstreet may have been my favorite big man to watch, as he was incredibly productive, showcased his ability and impact at 6'9, and really filled it up around the basket. Overstreet simply catches your eye with his motor and activity around the basket, cleaning up on the glass, scoring effectively at the rim or around defenders, running the floor, and making...
read more
2023 6'10 Tai Hamilton (ACE Elite): Hamilton has been a name popping up more and more this summer and deservingly so. At 6'10 and with his fluidity, there is certainly a place for him at the next level and he is one big that you can still work with and develop. But he utilizes his length well, whether it is being active on the boards or protecting the rim, but he also runs the floor well at...
read more