To filter articles by a specific event, use the dropdown below.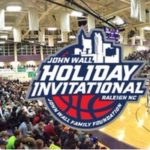 In the semi-final game of the TJ Warren bracket, it was Word of God (10-6) going against Callaway (9-2) for the right to advance to the championship game Monday night.
read more
allaway High School is appropriately nicknamed the Chargers. Callaway has been a Mississippi 5A power and features nationally-ranked junior guard Daeshun Ruffin. The Chargers like to get up and down and score in the 80's. For Leesville Road, 6'4 junior Carter Whitt leads the way and will be looking for an estimated mid-January return of Jalen McDonald. In addition, Leesville Road also gets double-digit scoring from 5'9 junior Chase Hakerem, 6'4 junior Scott Martin, and 6'3 senior Deon Daniels. Carter Whitt is a natural level prospect that is one of the better passing point guards in the country.
read more