To filter articles by a specific event, use the dropdown below.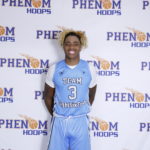 2021 Brandon Cherry (Full Court): Cherry plays with a really good, natural feel for the game on the court. He doesn't force things on the court that aren't there, plays with a nice pace and with his head up, looks to find his teammates but also shows a smooth jumper. 2022 Landon King (Patriots): King is a name that should catch on more in the Charlotte area for Independence. He was able to...
read more
Team 6 Coach: Bronal Gary #61: 5'9 '23 Samuel Hepler (Fred T. Foard) Starting things off, we look at a player that was quite impactful on both ends of the floor, especially for his age, Samuel Hepler. He's a smart, skilled point guard prospect with a terrific jumper from midrange and beyond the arc. Hepler displays an advanced feel for his age and is able to set up others at a solid rate or...
read more