STAY POSITIVE CLASSIC EVENT RECAPS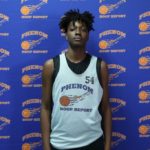 Zymicah Wilkins By: De'Ajai Dawkins 2025 Kaleb Phillips (Team Heat Elite)  Kaleb has been making his presence felt through his natural ability to score. He's a wing player with the size to play in the post and used his combination of size and shooting touch to provide high scoring outputs every game. One thing I appreciate about Kaleb is his willingness to score, he doesn't allow himself...
read more
6'0 Brock Bowen of CC Warriors 17U is an elite shooter. Very efficient and shoots the ball from three with a very high percentage. Has a quick smooth stroke that allows him to get his shot off with very little space; doesn't force anything and takes really smart shots. Has the ability to put the ball on the floor and create for his teammates. Plays within the offense and is someone who can...
read more