To filter articles by a specific event, use the dropdown below.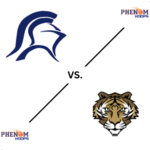 Trinity Academy: 20 – 14 – 16 – 12: 62NRCA: 6 – 13 – 12 – 20: 51 Phenom Hoops tuned in to watch Trinity Academy and NRCA, an interesting game with new names. Trinity came out strong offensively behind their leaders, knocking down shots inside and out which allowed them to jump out to a 20-6 first-quarter lead. They were able to maintain that lead heading into halftime as well, leading...
read more
As we get into the top 10, we arrive at prospects that have begun making waves throughout the state and should only further solidify their placement over the next two years. The current rankings can be found at the links below. Tier 3 (4-7)Tier 4 (8-13)Tier 5 (14-18)Tier 6 (19-21)Tier 7 (22-25)Tier 8 (26-31)Tier 9 (32-36)Tier 10 (37-40)HM (part 1)HM (part 2) (6) 6'3" Will James Jr. (Holly...
read more