To filter articles by a specific event, use the dropdown below.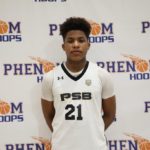 Isaiah Henry By: Noah McKenzie 6'3 2025 Kody Frey (Save Sports Elite NC 2025) demonstrated his unique combination of skills. Offensively, he is the full package. He's got a smooth stroke and his length allows him to finish well at the bucket. He also posses a solid handle to go along with impressive vision. Not only does he possess the skills of a high level player, but the mentality, too. He...
read more
The Queen City Showcase in Rock Hill this weekend is going to be off the charts. With talent all on the floor, livestreams streaming the games, and a ton of coverage from Phenom Hoops, this is going to be one of the best events to start the travel ball season. That is why we wanted to get a leg up on it, as we spoke to several coaches that will be bringing their teams to South Carolina...
read more