To filter articles by a specific event, use the dropdown below.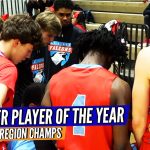 Yet again, Coach Josh Staley has led his AC Flora Falcons to a Conference Title. Impressive feat considering the incredible talent that sits in his conference. AC Flora has a rich basketball tradition with the likes of Xavier McDaniel and Ty Corbin having graduated from the school. Staley has things rocking and rolling right now. Led by Conference Player of the Year DJ Sinkler, Wingate football...
read more
There are an abundance of subplots worth noting for this upcoming weekend of basketball, but the showdown between AC Flora and Hartsville might be the most anticipated first-round game on tap. Obviously, people are excited about seeing South Carolina-signee Trae Hannibal (who also doubles as a human highlight reel) face off against one of the top sophomores across the state in Robert McCray....
read more