To filter articles by a specific event, use the dropdown below.
Now is the time that recruiting is really picking up. The early signing period has come and left and players are making their decisions. This means, schools are missing on players they targeted, which puts them back to the drawing board in terms of what their recruiting lists look like. Now is the time unsigned seniors names can get hot, and catch fire. The List Unsigned Seniors (Part 1) The...
read more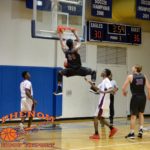 Phenom's Low Country Showcase will take place on January 20 in Charleston, South Carolina (at Porter Gaud School) and as expected, the event is loaded with talent. There will be a number of players competing in the event who are universally considered as high-flyers. Guys the mix tape people will not want to take their cameras off of. Guys they fans will get out of their seats and uncontrollably...
read more