To filter articles by a specific event, use the dropdown below.
Check out highlights between South Granville and Louisburg as they matched up in the conference tournament. Jamison led all scorers with 28 points but Pettiford (26 points) & company came away with the win.
read more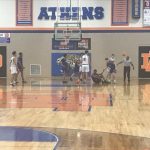 Millbrook in State Championship or Bust Mode Having seen them both in the past 5 days, Millbrook and North Meck should be considered the odds on favorites to meet in the 4A state championship game come March. With Millbrook having been in this event, let's talk on them. Their size is unmatched, but what makes it special is their size's combination with the ability to move their feet...
read more