To filter articles by a specific event, use the dropdown below.
6'7 Saiquone Harris (Word of God) In terms of raw talent, there is no real questions surrounding Harris and his massive long-term upside. At 6-foot-7, he's undeniably skilled for his size with athleticism, toughness, and useful offensive versatility. Harris handles the ball well, displays solid vision, and actively mixes up his approach as a three-level scorer. He's great in transition and...
read more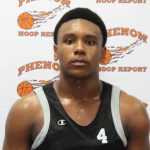 Phenom Open Gym Tour "Winston-Salem Prep" Phenom Hoop Report travelled to Winston-Salem to cover open gym of Winston-Salem Prep. Coach Andre Gould is in his 15th year as head coach and he is quietly building one of the NCHSAA most successful programs in the state. Coach Gould was named head coach back in 2004 when the school opened and only fielded a freshman team. During this time...
read more