To filter articles by a specific event, use the dropdown below.
Khyree Temple came out of his shell in a very loud way at Southern Jam Fest. Leading his District WAWG team to a Southern Jam Championship in the program's inaugural season.
read more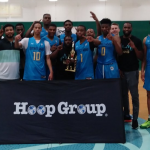 Phenom Hoop Report headed up to Hampton this past weekend to watch some of the premier talent around the area.  Ultimately, Garner Road Gold met up with District WAWG in the 17u championship, with WAWG coming out on top 60-55.
read more