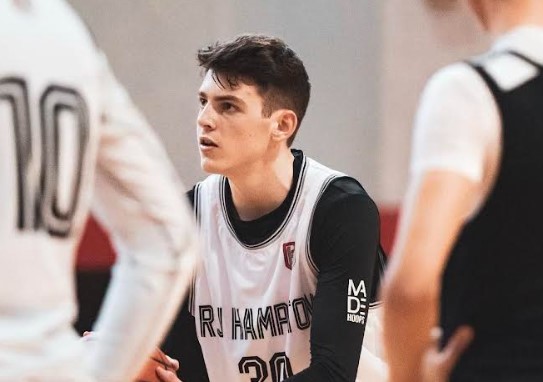 By: Kevin Moses
Paxton Ivy
Twitter: @PaxShooter25
Height: 6'2, 160lbs
Class of 2027
School: Rockwall High School, TX
Ivy is an absolute phenom. This young star plays varsity and makes an impact on every single game. Paxton is a prolific three-point shooter, a walking bucket as a rock-solid triple-threat scoring option. One of the most beautiful releases I have ever seen. He is also the most unselfish player on the team who makes some jaw-dropping passes leaving you wondering how he did that. 
Ivy has incredible court vision matched by his extremely high IQ making the right reads on the defense to know the perfect moments to deliver those passes. He can mix it up on the boards as well. What I was most impressed with was his defense as he has taken that to another level.
Playing up in the AAU circuit, Ivy averaged 10pts per game on a loaded team. Paxton plays hard, never taking plays off. He was fierce and scrappy. Ivy has set goals to continue to prove he can play varsity level and excel impacting games even more. He continues to earn more minutes even on this loaded team.
Paxton's shooting is what separates him from everyone else.  Extremely high percentage shooter who won't force shot, but picks the defense apart. The ceiling is insane for him as he continues to grow. Super versatile and humble kid but an assassin when he shoots. Cold-blooded. This is one great team to follow.