With the travel ball season in full swing, it's only appropriate that we take a closer look at some notable targets across the state. Usually, countless offers are being thrown around at every turn. However, majority of programs have opted to hold onto their scholarships for as long as possible and ultimate play the waiting game with the Class of 2022. Although coaching staffs are moving and actively getting involved with prospects (like Radford, for example), there's still an abundance of talent being pushed aside. Guys like Nolan Hodge and Nate Brafford are still widely underrated, but their offer sheets have continued to grow throughout this process. This article will dissect a handful of noteworthy names (each with limited offers) that should ultimately become priorities for college coaches over the coming months…
6'8 Sam Perez (Trinity Academy/Team Wall)
Given his ability and production, it's very difficult to try and understand why Sam Perez doesn't have more scholarship offers. After averaging 16.6 PPG, 8.6 RPG, and 3.5 APG with 51% FG during his junior season at Middle Creek, the offer-less Perez sought out to receive appropriate attention from college coaches. He earned an offer from Campbell following an impressive summer season. However, it felt like more programs should've been involved even then. Fast-forward to now, and it's even more perplexing to attempt to make sense of his recruitment. Perez is tough, skilled, and well-rounded with the necessary size and athleticism to overwhelm opponents in a variety of different ways. At 6-foot-8 with his inside-out ability, various Division I programs should be involved.
6'7 Cinque Lemon (Cape Fear Christian/Team Loaded)
Arguably the hottest prospect of anyone listed, Cinque Lemon has finally begun earning respect from college coaches over the last six months. His combination of size, athleticism, and two-way versatility should make him a priority for numerous types of programs. Lemon has collected three total offers (Charleston Southern, Lee's McRae, and Eastern Kentucky), but looks likely to secure another ten or so offers within the next twelve months. It's surprising that his high-level season as the leader of Cape Fear Christian didn't lead to more opportunities. Lemon's nightly averages of 16.4 PPG and 5.3 RPG with 55% FG and 38% from beyond the arc should've warranted more opportunities. However, Lemon has all the tools to be a highly coveted asset going forward.
6'5 Chase Lowe (Weddington/CC Elite)
Between the previous high school season and current travel season, Chase Lowe has easily established himself as one of the more underrated prospects in North Carolina. Currently holding zero offers, there truly might not be a more bizarre recruiting situation within the state. Last season, Lowe posted per-game averages of 14.5 PPG, 7.2 RPG, 6.1 APG, 2.9 SPG, and 1.1 BPG with 54% FG while leading the charge for an undefeated, state-championship winning Weddington squad. In transitioning to the summer season, his choice to play with CC Elite instead of other shoe-circuit programs is already paying dividends. While it hasn't led to any offers yet, Lowe is still performing at an extremely high level. In terms of his identity, the appeal of a 6-foot-5 wing with legitimate point guard ability should be pretty self-explanatory. Like the aforementioned duo, Lowe should become a priority for Division I programs sooner than later.
6'0 Nik Graves (Greensboro Day/Garner Road)
Like numerous floor generals before him, Nik Graves has almost been overlooked for his steady, consistent identity. He's such a reliable point guard with IQ, pace, and a very balanced presence on both ends of the floor. While many "point guards" are glorified for their multi-dribble combos and scoring ability, Graves actually seems to be punished for being a trustworthy game manager with the understanding of how to make others better. Although he's a strong, willing playmaker, he's also proven to be an efficient scoring option from all levels. Graves makes excellent decisions with the ball in his hands, but shows an understanding of how to operate as an off-ball threat. He's a quality defender and well-rounded player that simply knows how to produce. Boston University just recently offered, but one should expect plenty of programs to get involved going forward.
6'8 Mayar Wol (Fuquay-Varina/Team Loaded)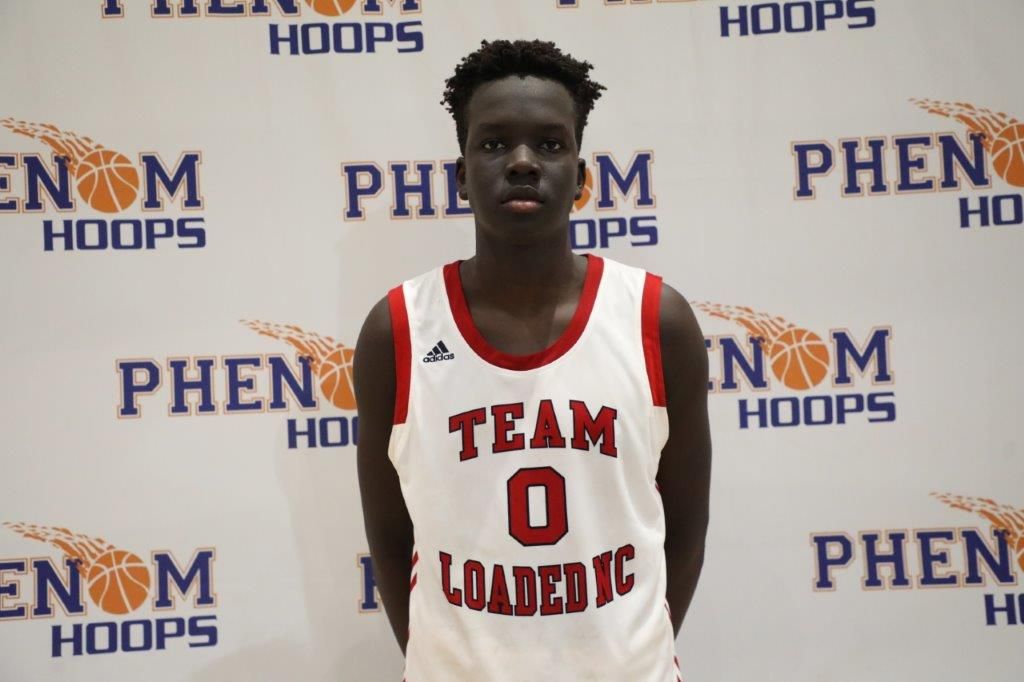 Possibly the most unique prospect of anyone listed, Mayar Wol should certainly have more action within his recruitment than currently constructed. As the lone junior to play significant minutes on a senior-laden roster, Wol posted nightly averages of 13.6 PPG, 6.9 RPG, and 1.1 BPG with 64% FG and 45% from distance. Those numbers alone should warrant scholarship offers. Add in the fact that he's a useful inside-out forward with size, toughness, and quality skill for his position, and the appeal should be obvious. As a major catalyst for Team Loaded, Wol has arguably been even more impressive during the early stages of the travel ball season. One should expect his recruitment to drastically pick up, as he has the tools to be an asset for a variety of programs at the next level.