Ranking prospects is an interesting method to try and encapsulate the fluidity of overall player movement. Unfortunately, the vast majority of those who tend to form these ranking lists typically opt to make updates on a periodic basis rather than monthly or bi-weekly. Two important points need to be made. First (for those who oppose the aforementioned fluidity of rankings), all major "rankings" usually change from week to week. Look at ESPN's NBA Power Rankings or MVP Rankings, they update constantly. The issue comes into play with amateur sports and projecting outward. If Player X outperforms Player Y, Player X should theoretically be ahead of Player Y (assuming they are the same level of prospect). However, this ideology is somewhat shaky prior to reaching the highest levels in a given sport. Second, and more importantly, this is not a ranking. Although these are top-tier players within their class, this list holds no relevance to Phenom Hoops' actual rankings. Let's take a look…
6'11 Christ Essandoko (Winston-Salem Christian/Team Curry)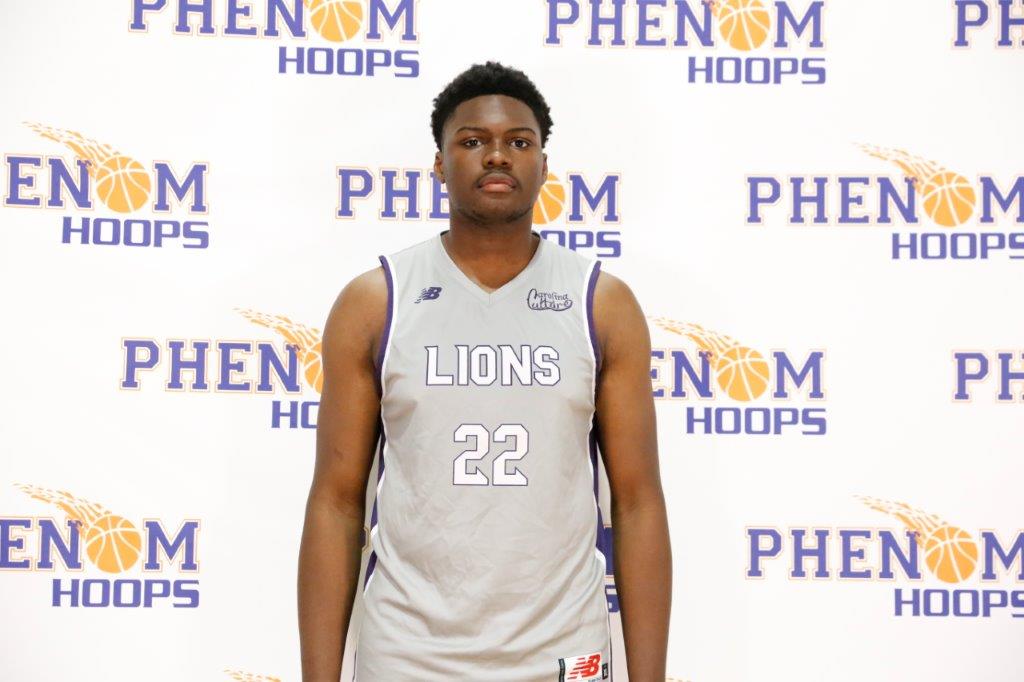 It's funny how much can change in a twelve-month period, like folks finally starting to come around to the idea of Christ Essandoko's greatness. Perhaps this realization should've happened back in August when high-major programs (like Rutgers and Wake Forest) were already salivating at a fresh arrival from France or maybe in November when we regarded him as a special talent at our Top 80. Either way, people have definitely become more bullish on the savvy post prospect. Anyone who watches Essandoko can easily identify a polished, skilled interior presence with soft hands, a sturdy frame, and excellent scoring ability from the block or perimeter. He's a strong rebounder with shot-altering instincts and an understanding of how to utilize his body on both ends of the floor. Expect Essandoko to climb national rankings over the coming months.
6'3 LJ Thomas (Bull City Prep/Team Loaded)
Like various others in the class, LJ Thomas really burst onto the scene upon relocating to North Carolina last summer. He quickly grabbed the keys of Bull City Prep and never turned back. Though he might not be a true point guard, Thomas largely represents the modernized version of a floor general. His ability to generate quality scoring chances from everywhere on the floor makes him an absolute problem for most opposing backcourt players. Add in his vision and useful playmaking sense, and Thomas can effectively run a team for various stretches. He's also a well-rounded athlete with IQ, craftiness, and defensive tools. Thomas is arguably at his best in the open floor, but also stands out as a reliable three-level scoring option in the half-court as well. His omission from national rankings is pretty ludicrous, but folks should become wise sooner than later.
6'4 MJ Collins (Westminster Catawba/Team Curry)
If anyone can truly understand how much things can change over the course of twelve months, it's MJ Collins. The shift from taking a backseat at Northside Christian to being the leader of Westminster Catawba is what ultimately led to Collins becoming one of the most coveted prospects across the region. As a 6-foot-4, skilled, athletic, effortlessly efficient three-level scoring wing, he already possessed all the tools and makings of a noteworthy prospect. However, the evidence started to become undeniably clear towards the winter holidays. We regarded Collins with extremely high praise, both on social media and through published articles, but it would still take another three months for Murray State to join his lone Presbyterian offer. Three months and thirteen scholarships later, it seems moronic for anyone to have ever doubted his abilities. Collins should only continue gaining traction with high-major programs going forward.
6'5 Freddie Dilione (Word of God/Team Loaded)
It's somewhat rare to see noteworthy prospects move in a relatively quiet manner, but it hasn't seemed to affect Freddie Dilione and his ability to be recruited at the highest possible level. Although few have questioned the reasoning, most folks can still admit to being perplexed regarding his sluggish recruitment prior to last October. After enjoying an exciting summer season worth noting, the fluid, polished 6-foot-5 wing prospect saw no movement from college coaches. Unlike most other young prospects, Dilione remained calm and simply sought out to continue demolishing all opponents in his path. As expected, the lethal all-around scorer only further solidified his status as a premier prospect within the state–picking up a total of seven offers along the way. Dilione has maintained his level of play through the current travel season and should only continue stacking up Division I opportunities.
6'9 Deante Green (Asheville Christian/Team CP3)
Although most folks should be pretty accustomed at this point, Deante Green continues to boost his stock as a useful piece at the high-major level. After transferring from Christ School to Asheville Christian in the middle of the season, he was tasked with becoming acquainted to an entirely new cast of teammates on the fly. It seemed to work out quite well, as Green's rebounding and inside-out ability allowed the Lions to conclude their season with a six-game winning streak and victory in the state championship contest. Undoubtedly the most decorated prospect on this list, he holds an extensive offer sheet from all types of high-level programs throughout the country. Green has since announced his top-six schools. Given his production over the start of the travel ball season, Green has only continued to turn heads and should ultimately be a suitable addition for various programs at the next level.