Given their history as a program, it probably isn't much of a hot-take to reference John Marshall as a noteworthy squad. However, in a time when public schools have begun to fade, Ty White and his slew of talented prospects have maintained their success. Over the last decade, the Justices have won nearly five times more games than they've lost—and it's not by accident. Their group traveled down from Virginia for a battle against Holly Springs in our Tyler Lewis Hoop Fest on Saturday, and it was arguably the most entertaining contest of the entire event. They have a variety of enticing college prospects, and their blend of IQ, discipline, toughness, and unselfishness (both individually and collectively) is what makes them such a well-oiled machine. Let's look at a few of their pieces…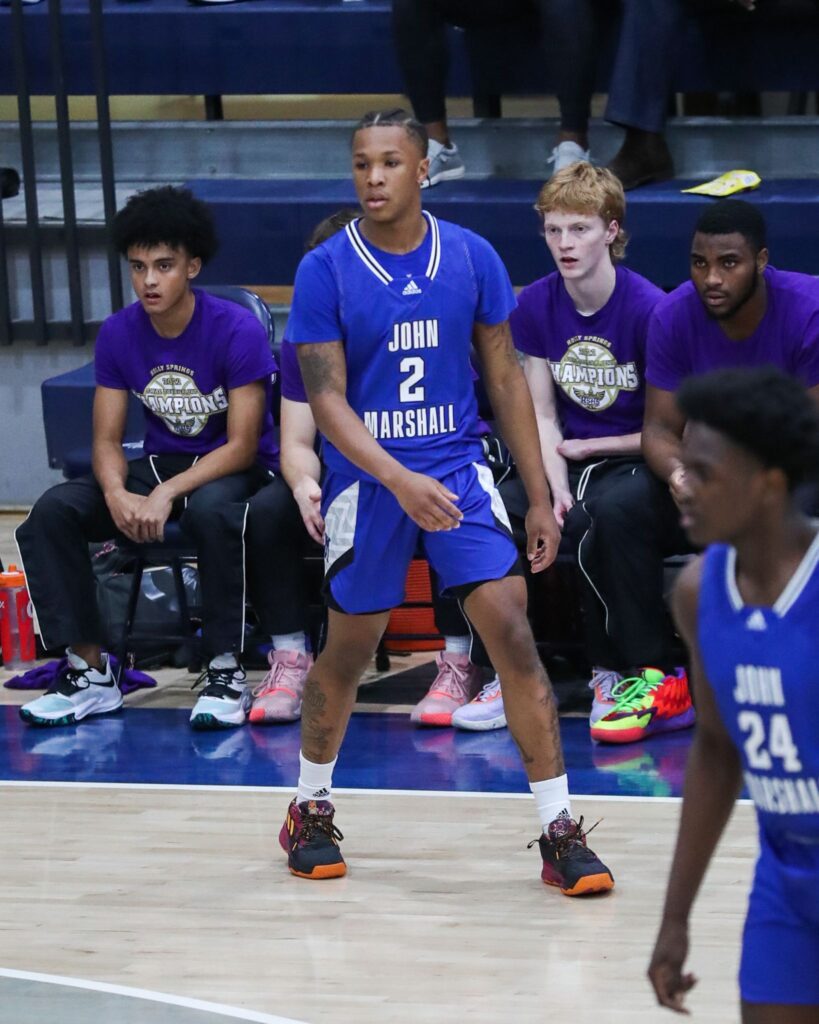 It all starts with their floor general, Damon Thompson Jr., and his ability to set the tone on both ends of the floor. He's quick, poised, intelligent, and knows how to consistently outwork his assignment. Thompson possesses a tight handle and sharp first step, which allows him to touch the paint at a high volume and set up others or finish with a series of floaters/runners. He can attack the basket and play through contact at the rim, but looks to involve others and make the right play with the ball in his hands. Thompson plays with great pace, mirrors his opponent defensively, and forces turnovers at a healthy rate. He's also a quality shooting threat from midrange and beyond the arc. Only a junior, Thompson offers great balance and a reliable two-way presence.
Meanwhile, Dennis Parker (committed to NC State) also stands out as a definite leader for the Justices. He possesses a phenomenal blend of size, athleticism, and adaptability with a well-rounded skillset. Parker naturally does a healthy amount of everything on the court and is capable of toggling or producing within various different roles. He creates, moves well without the ball, and applies scoring pressure from all levels. As a strong 6-foot-7 wing, Parker is able to attack the basket, play through contact, and overwhelm opponents with his overall physicality. He's a useful shooting threat who excels in the open floor. His array of tools brings obvious appeal, so it'll be exciting to see how his career unfolds for the Wolfpack.
Despite being only a freshman, Latrell Allmond was quite possibly the most impressive prospect in attendance. He's already so polished with an incredible combination of feel, fluidity, and overall skillset. Allmond is a legitimate matchup problem who can handle, pass, and shoot the ball at an elite level for his size/position. That being said, he knows how to utilize his size and take advantage of any smaller opponents near the basket. Allmond displays soft touch with either hand and great strength when rising up to finish above the rim or through contact. He also possesses footwork, perimeter shooting, rebounding instincts, and excellent instincts for anchoring the paint defensively. It's difficult to point out any real weaknesses within Allmond's game or identity. He's clearly a high-level talent who should be regarded highly amongst Division I coaches and national media outlets over the coming years.
While each of the aforementioned trio have already committed or received multiple offers, Jason Rivera feels like a guy who is drastically underrated in the bigger scheme of things. He's a long, wiry 6-foot-6 versatile wing/forward prospect who knows how to wreak havoc and cause problems for opponents on either side of the ball. Rivera utilizes his extremely high motor to consistently outwork opponents for rebounds, toggle between multiple positions defensively, and make hustle plays whenever available. He shoots the ball at a high percentage, can assume creation duties when needed, and displays great two-way feel. Rivera is skilled like a guard, rebounds like a big man, and fills in the gaps as needed. Though he earned an offer from George Washington last December, Rivera should still have a lot more action within his recruitment.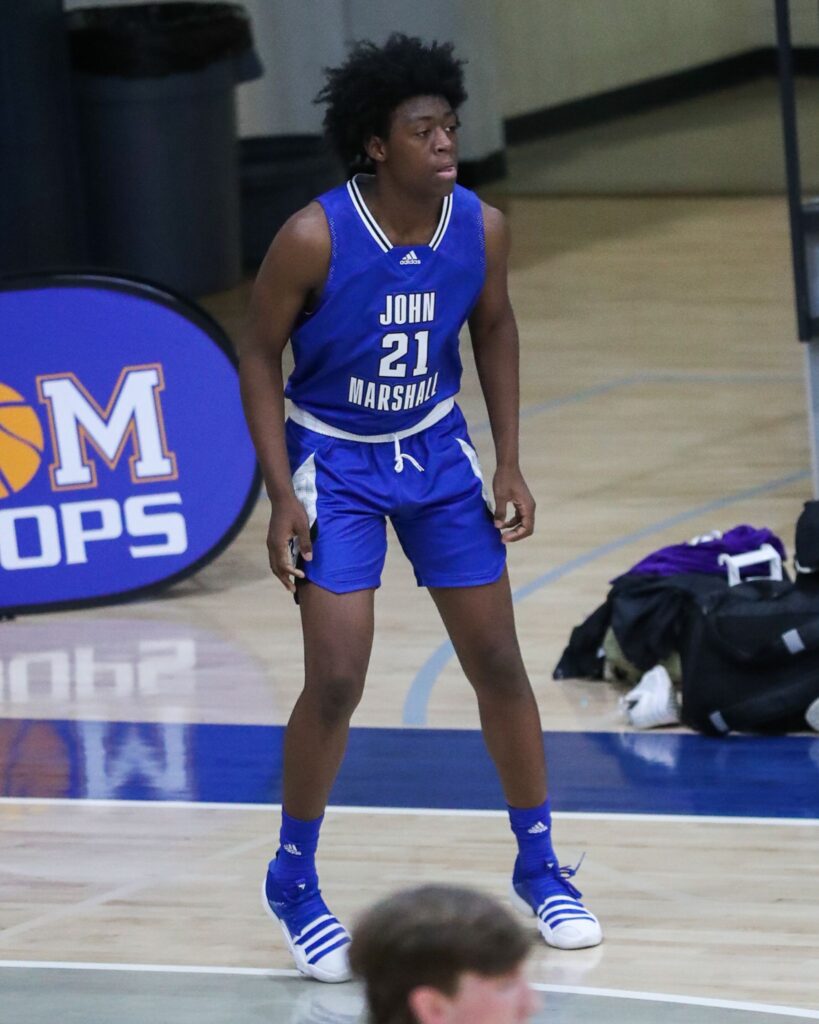 Additionally, Desmond Rose stood out as another intriguing cog within this group. As a 6-foot-6 sophomore, he understands how reliably make plays within the flow of the team structure. He's long, wiry, athletic, and plays hard on both ends of the floor. Rose secured rebounds, contained his assignment defensively, utilized his size around the basket, and adapted to team needs whenever possible. He possesses a fairly well-rounded identity and knows how to capitalize on his opportunities without forcing the action. Rose already possesses a lot of ability, but the long-term potential is also easy to see.