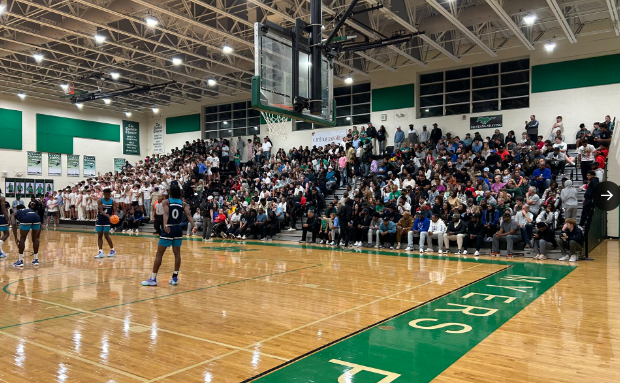 Combine Academy vs. Myers Park lived up to the hype
The Top-25 showdown had everyone buzzing about this game, and it lived up to the hype. It had everything you wanted; waves of emotion, terrific competition, and elite prospects battling and stepping up. Kansas commit 2024 Rakease Passmore led the charge and helped propel his team to the win, but Seton Hall commit 2024 Jahseem Felton, 2025 Sadiq White, and Tennessee commit 2024 Bishop Boswell all played at a high level. It was a tight game throughout and the atmosphere was off the charts, as they showed why these two schools are nationally ranked.
Most Impressive Teams: Northside Christian and United Faith
Walking away from the event, there were two teams that I had to give ultimate kudos to for what they showed early on in the season. Northside Christian has really tested itself to start the season, and they have impressed with a 2-0 record at the event. This is a team that plays with energy, competes on both ways and has plenty of options offensively to attack with. They have shown they are a team that has a chance to win another ring and they will be tough throughout the season. United Faith was a team as well that impressed; terrific guard play and playmakers, they have multiple options offensively to attack, and they can score inside and out. This team looks focused and ready to make a run, and they made that apparent to start the season.
Unsigned Seniors College Coaches should be ALL OVER
One thing that I walked away with from this event is how much talent there is to be found in unsigned seniors.  There are plenty of names that could be on this list, but there were a few that really stood out. 2024 Kameron Taylor is must-see TV and only improved his stock once again; he should be rolling in offers coming his way. 2024 Maurio Hanson is another one as well, as he should be highly-coveted by schools all around the region with his strength, his activity, his feel and skillset, and his offensive play; it was easy to see. 2024 Keenan Wilkins was spectacular in leading the way with his speed, and his ability to be a playmaker and lead the charge as a point guard. 2024 Gabriel Mabor controlled the paint once again, showing why he is one of the best bigs remaining in the country. 2024 Kyrell Shaw once again showed why he can be a game-changer with his outside shooting, and why more schools should target him. 2024 JJ Moore was crafty, got others involved, scored and showed his speed, and filled up the stat sheet. 2024 Santana Lynch was absolutely off the charts in his play, scoring, rebound, facilitating… he was the ultimate stat-stuffer at the event and his stock could continue to rise with more showing like he had at the event. 2024 DJ Boyce was huge in his ability to knock down shots from behind the arc, as he finished with 12+ 3's in two games for United Faith. And 2024 Isaiah Sutherland looks focused and ready to shine as his ability to score around the basket, bring a defensive impact, and be a vocal leader on the court.  I walked away so impressed with unsigned seniors that college coaches should be all over. More to come with these players.
Introduction of the New, Young Talent
Though there were plenty of unsigned seniors, there were other young players who introduced themselves to everyone. 2026 Markus Kerr was one of them, as the 6'5 prospect showed why we regard him as a big-time talent with his versatility, three-level scoring, and his potential. He introduced himself in a big way for Chambers.
Watch out for 2028 6'5 Mason Collins for Christ School, as the young prospect got some strong minutes and showed flashes of his potential and athleticism, as well as tremendous size/length. 2026 Will Stevens is trending in a big way, as Jeff Bendel raved about what he saw with the 6'10 big man. He is just starting his journey but there is so much to like as he continues to get stronger, get taller, and showcase his ability to be a big presence in the paint in racking up double-doubles. Start getting used to hearing 2027 Josiah Johnson-Freeman, as he has elevated his game and one can see his confidence is continuing to grow. He can knock down shots with confidence and should only continue to develop in a big role for Northside.
Impressive outings for multiple teams
Outside Northside Christian and United Faith, schools like Winston Salem Christian and Lake Norman also made statements at the event. WS Christian has plenty of talent and has weapons all over the court, as they competed on both ends, have a balanced attack, and may not be done yet with a few surprises. Lake Norman was another team that captured our eyes and proved they were ready to make a run at a title. They were strong offensively, had multiple weapons and players who understood their role, and could bring a balanced attack.  Both of these teams are strong and have a chance to make a run in a big way this year.