Scroll to the Bottom to Watch the RAW Highlights from Each Team!!
SW Guilford vs. Ben L. Smith Game Recap and Storylines
Phenom Hoop Report travelled to Ben L. Smith High School to cover the marquee matchup between undefeated SW Guilford (11-0) and Ben L. Smith (8-5) both of the NCHSAA Piedmont 3A conference. It was a competitive game as SW Guilford took a narrow 33-30 lead going into halftime. However, SW Guilford's trapping defense created too many turnovers for Ben L. Smith to overcome. SW Guilford came away with an impressive 67-55 road win. Now, let's take a closer look at the game's standout players and storylines.
Team Balance: SW Guilford
SW Guilford won't be the biggest team in the state, but they are one of the most balanced teams. They have five senior starters that all average in double figures. Leading the way is 6'1 Keyshaun Langley with 15.4 PPG, 6'5 Jayden Turner 13.8 PPG, 6'3 Christian Martin 13.0 PPG, 6'5 Joel Pettiford 12.9 PPG and 6'1 Kobe Langley 10.6 PPG. (Stats provided by Max Prep) This is a very quick and athletic team and their defense clearly dictates their offense. They are best in transition and their quickness, length and athleticism creates havoc where they turn the opposing team into countless turnovers and this was the case agains Ben L. Smith. While Keyshaun and Kobe Langley are the heart and soul of the team, they have an outstanding support cast to boot.
Get to know him: 6'5 Senior Jayden Turner  (SW Guilford HS)
We have seen Jayden Turner several times from our NC Phenom 150 camp and at the Southern Jam Fest back in July. Each time, Turner had outstanding performances and his game vs. Ben L. Smith was no different. Simply put, Turner was sensational. He finished with 22 points including three 3-pointers, not to mention a few midrange jumpers and several impressive transition dunks. . We're talking about a bouncy, athletic, explosive and lengthy wing that is virtual flying under the recruiting radar. More importantly, he is the lead person (plays point) on SW Guilford's 1-2-2 pressing defense.
Great All Around Game: 6'1 Senior Kobe Langley (SW Guilford HS)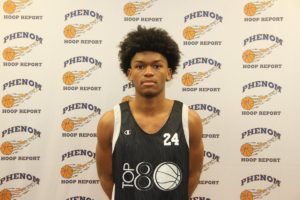 The southpaw just had an all around outstanding game. He finished with19 points, seven assists, and six steals. Simply put, there just aren't any better two-way guards in the state than Kobe and his twin brother Keyshaun. Kobe was efficient from the perimeter, has excellent court vision and has unbelievable lateral quickness and defensive "active hands."
Setting The Pace: 6'1 Keyshaun Langley (SW Guilford HS)
Keyshaun ran the team to perfection. His court vision is simply terrific and sees plays in advance. Time and time again, Keyshaun was making offensive moves simply to set up open teammates for kick out passes. For the night, Keyshaun finished with seven points, 12 assists and six steals. Keyshaun set the pace of the game early and kicked it into high gear in the second half.
Mr. Double Double: 6'8 2020 Nick McMullen (Ben L. Smith HS)
Nick McMullen did everything he possibly could do in the losing effort vs. SW Guilford. We're talking about a physically strong power forward that has impeccable rebounding instincts especially on the offensive end of the court. He has soft passer friendly hands, nifty footwork in the paint and the ability to step out and hit the midrange jumper. McMullen finished with a double double of 26 points and 11 rebounds. Watch has his stock continues to climb.
Helping With The Ball Handling Duties: 6'2 2020 Silas Mason (Ben L. Smith HS)
If you only look at the box score, one could take that Silas Mason had an "off night," which is not correct.  Mason finished with 10 points and four assists, but in all honesty, Mason is playing multiple roles and positions for his team. With the transfer loss of Cam Hayes, Ben L. Smith was void of an experienced point guard, therefore Mason was often used as the primary ball handler at times which took him away from all he does best and that is score the ball. There were glimpses in the second half where he scored from the high post area. Unfortunately, those moments were limited due to the aggressive and attacking SW Guilford trapping defense
Southwest Guilford

Ben L. Smith