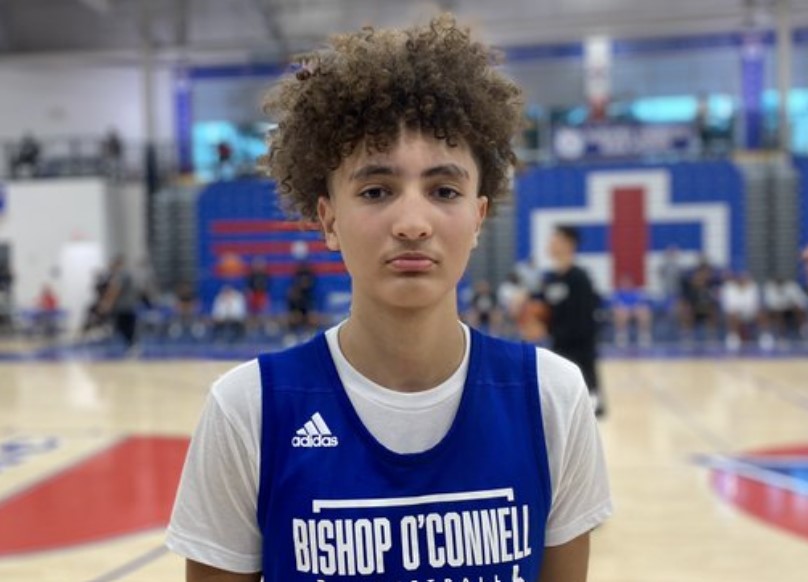 Looks like the DMV region won't be lacking talent any time soon and one player that you will want to start learning about now rather than later is 2026 6'4 Adam Oumiddoch from Bishop O'Connell. The combo guard is a strong scoring prospect with good size, as he is quickly showing why he is one of the top prospects in the region for his class. Phenom Hoops recently spoke to him about his game, his summer, and earning an offer recently from Illinois to now go with his others, Bryant and Old Dominion.
He dives into his thoughts on all the latest, as the rising freshman will be a name worth following.
Phenom: How did this summer go for you? Who did you play with and what were you hoping to show more about your game?
Oumiddoch: This summer went well for me, especially getting my name out there and working hard 2 to 3 times a day. For this summer I played with DNA Elite and Team Melo for the EYBL Circuit. One person I would really like to stand out is my coach, Dominic Phillips because he brought my game to another level working with him all the time and he knows what's best for me because he played at the highest level of basketball himself. I would also like to thank the amazing program of Team Melo and my coaches, Sam Brand and Coach Jaron.
Phenom: How would you best describe your game?
Oumiddoch: I would describe my game as a score-first guard my position is A combo guard. I can shoot the ball from anywhere on the court and also get to my spots in finding my teammates and finish at the rim with ease.
Phenom: What is your excitement about the upcoming high school season?
Oumiddoch: I'm really excited this year for high school ball because I feel like our squad is a good team and I also get the opportunity to play as one of the top freshmen in the country but I'm definitely going to face some moments that will be hard for but will only get me better!
Phenom: What was it like to get that big offer from Illinois? Anything you know about the program early on?
Oumiddoch: I mean it really was an amazing feeling, the coach told me he watched me multiple times and loved my game, so we stayed in touch, he watched me at the DMV live and also the EYBL circuit with Team Melo. I knew about Illinois for a long time now because it was my cousin's favorite college and dream college growing up and it was an amazing opportunity to receive a scholarship from there!
Phenom: What is it like to receive these early offers?
Oumiddoch: I feel like all the work that I put in is starting to pay off because to be earning DI scholarships as a freshman is not a regular thing but also the grind does not stop here, it's just the beginning. I would also like to give a huge thank you to my family especially my parents for all that they do for me you guys are my inspiration.