By: Khalil Shakir
South Carolina is loaded with hidden gems around the state and one of our new knowledgable scouts brings you Part 2 of players that have gone under the radar but should be attracting some eyes from the state. Check out a few names below.
Jaylon Jeter (2021)
Position: PG/ Combo
Height and Weight: 5'11" / 160
HS: Ridge View (SC)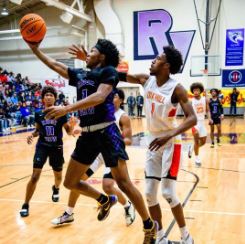 As a junior, Jaylon Jeter played a huge role in Ridge View winning the 2020 4A State Championship. During the State Quarterfinal, Semifinal and Final games, Jaylon hit several big shots and was assigned to guard the best player. Jaylon is a downhill offensive player. He has a high motor and can get to the rim with ease. Being 5'11" he is extremely athletic having a 39-inch vertical leap. He has an impressive pull-up jumper and has shown to be a clutch shooter from the 3pt distance in big games.
Jaylon is a mosquito on the defensive end, smothering, pesky, and does not back down from a challenge. He enjoys playing on-ball defense and will pressure the ball full-court. He plays with intensity and is very high energy; a natural born leader as well. Jaylon is expected to play more of a significant role for the Blazers. Division II to NAIA level programs should definitely be in contact with Jaylon Jeter.
Devario Sheppard (2021)
Position: Wing
Height and Weight: 6'5" 190 lbs
HS: Dreher High School
Devario is a handful, he puts a tremendous amount of pressure on opposing defenses with his smooth, skilled, attacking style of play. Left-handed smooth jumper with a great 15 footer. He is very athletic with a good bounce and good handle that he continues to improve. Devario has a great frame/build which allows him to be physical and post up smaller guards and wings. At 6'5″ he has the length and ability to play and defend multiple positions. He also rebounds very well at his position and plays well in transition. Devario would be a steal for Division II programs and a solid contributor at the low major Division I level. Look for the Division II offers to begin rolling in!
Mac Washington Jr. (2021)
Position: Wing
Height and Weight: 6'3" 180 lbs
HS: Marion High School
Mac Washington is one of the state's best scorers. He is a high scoring wing with the ability to score from all three levels. Coming off last season averaging about 17ppg, look for him to be their leading scorer and an offensive focal point. Mac has the athleticism and craftiness to finish above the rim and through contact with ease. He is also a great shooter with good range and can shoot both off the dribble and off the catch. He tends to find his rhythm quickly and when he does this guy is tough to stop. On defense, he uses his length, quickness, and athleticism to defend multiple positions.
In transition, he uses his speed to get downhill and get to the rim. Offensively, he has the IQ to play any of the guard spots and not only create for himself but for his teammates as well. The upside that he has is extremely high. He would be an immediate impact and potential four-year starter at the Division II level. Low major Division I programs should definitely begin showing interest. Look for the offers to start rolling in as the season progresses.
Malachi Reeves (2021)
Position: SG
Height and Weight: 6'4" 175 lbs
HS: River Bluff High School
Malachi is a silent assassin with a will to win. He is a high IQ and a fundamental player who creates for his teammates. Last season he averaged 12.8ppg 7.7 rpg and 3.2apg. Malachi is a sniper from the three, shooting 41% last year. He looks to find open spots on the court and knocks down shots consistently. He is capable of scoring at all three levels with pull-ups, floaters, and finishing around the rim. Malachi has great vision on the floor and uses that along with his crafty footwork to get to spots to find teammates regularly. He is a great rebounder for his size, using his length and body to attack the boards on both ends of the floor. Across the board, Malachi is very solid in every aspect of his game and has good physical tools to back up his skill set. Division II and III programs should begin offering this kid, an immediate floor spacer, and a knockdown shooter.
Bailey Wiseman (2021)
Position: Combo Guard
Height and Weight: 6'2" 175 lbs
HS: James Island Charter High School
Bailey is a killer on the offensive end. He is a crafty, high IQ guard that gets to his spots and scores with ease. He is an excellent shooter with out of the gym range and has good elevation and a quick release. He can shoot off the catch and off the dribble and is consistent. Bailey can score from all three levels and is a nightmare for any defender. He has one of the best midrange games and is one of the best all-around shooters in the state of South Carolina. He is a tough guard who doesn't back down or cracks under pressure. He is athletic and uses his IQ to his advantage on the defensive end as well. Bailey is also a natural-born leader and the heartbeat for his team, bringing the energy and intensity. He was named to the 5A All-State team and 5A Region 7 Player of the Year this past season. Already holding an offer from Charleston Southern, look for more low major Division I programs to climb in the mix.