When Phenom Hoop Report holds an event like the Junior Phenom, not only does it provide a chance for young prospects to start their story and resume with us and coaches, but is provides an opportunity for everyone to get a glimpse of the future.
South Carolina has started to pick up steam when it comes to being recognized as a basketball state and watching the young talent rise to the occasion.
Here are a few players that will have our eyes down the road.
2024 5'6 Justin Ray (Mitchell Road Christian Academy)
Ray took home MVP honors from the camp, as the lengthy prospect displayed an array of talent that will translate down the road for him. He has tremendous upside with his wingspan, craftiness, and ability to see the floor.  He also showed a quick release on his jumper as well.  At times, it seemed like the game just slowed down for him, finding those openings to attack and using that length to his advantage, but also showing leadership by example.
2025 5'6 Jamisen Wilds (Johnson MS)
Wilds sports an incredible frame already to go along with his motor.  As Rick Lewis described him, he is someone that goes "full throttle" all the time, attacking the paint, using his size and strength to his advantage, and getting downhill whenever he wants to.  He has tremendous confidence on the floor and plays through contact, while also showcasing his perimeter game as well at times.
2027 5'6 Josh Leonard (Briggs Elementary School)
It can be hard projecting someone so young in how they may develop but Leonard is one to keep in mind for when he hits the next level.  Leonard already has solid size for someone so young and he is so competitive on both ends of the floor.  He took home Mr. Defense this year, as he was disruptive down low and creating havoc.  But he also showcased versatility offensively.  Depending on how much he grows, he has the tools to be a potential stretch forward going down the road, as he was very effective down in the paint.
2025 5'8 Jashad Mclean (Spartanburg Charter)
Being on court 2 twice, he was one of the most impressive downhill attackers at the camp.  He had the mentality that he could get a bucket whenever he wanted; he was simply fierce and always attacking.  Showcasing his upper body strength as well as his handles and ability to defend, Mclean notched his name into someone to keep an eye on down the road.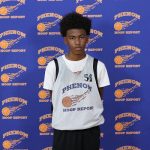 2026 5'10 Treven Raymon (Saluda Trail Middle)
Raymon immediately caught our eyes with his length but some would have thought he would be older.  But when you noticed that he was only in sixth grade, he was a name you couldn't pass up and immediately put on the watch list down the road.  He has great length and brings tremendous versatility to the floor.  He also displayed a great touch but it will be interesting to see how much he grows size-wise.  He has a chance to be an incredibly lengthy prospect down the road.