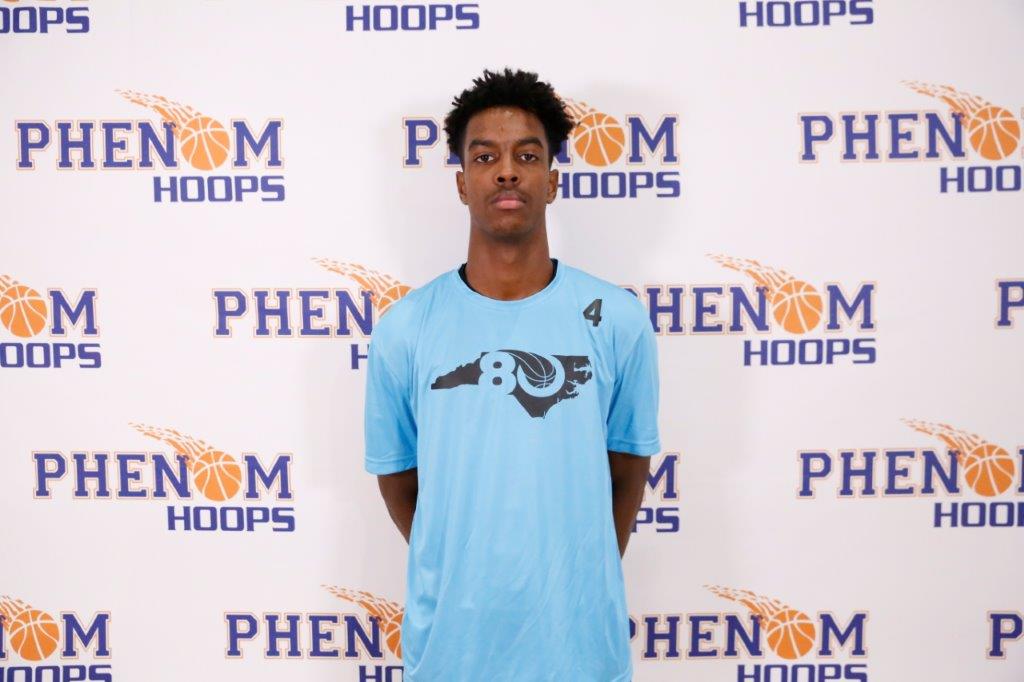 It doesn't take a basketball genius to understand what 2022 Donovan Atwell brings to the table… this young man can absolutely flat out shoot the ball and you can see that by the numbers. Atwell shot 42% from distance while being ranked fourth in made and attempted three-pointers.
He also showed that as well on multiple occasions this summer at Phenom Hoops event, including 10 3-pointers in one game off the top of our head.
But Atwell also brings tremendous size, IQ, and understanding of the game and what he can provide on the court.  It is why his recruitment has started to pick up tremendously but also will be fun to watch at Davidson Day next season.
Excitement about upcoming season at Davidson Day
Atwell was a tremendous addition for Coach Ron Johnson and Davidson Day, and should certainly bring firepower for one of the top programs in the state of North Carolina. And the rising junior seems to be really excited about competing at a high level and learning from the coaching staff.
"It's been going great," Atwell told Phenom Hoops.  "Coach Johnson has taught me so much on the court and the season hasn't even started yet.  Also, he has been helping me get stronger, faster, and more explosive.  In addition to that, I've been working on my handles and becoming more of a combo guard instead of strictly a two-guard, to where I can bring the ball up the court if needed."
"I'm very excited and grateful to be able to play for such a respected coach and I am very excited and ready for all the things I am going to learn from him and translate it on the court this season."
Recruitment could take off in a big way
It seemingly was only a matter of time for Atwell. A 6'5 shooting guard that can knock down shots at a high clip, college coaches were going to take notice quickly. And that is what happened this summer when he earned his first offer from Winthrop.
"Receiving my first offer from Winthrop was a very special and exciting moment for me, it is something I have been working towards my whole basketball career and I'm not stopping here; it is only the beginning. They said they loved my personality and the way I carried myself on and off the court. Also, they loved how I can shoot the ball and how I can always find the best shot for the team, even if it's not me taking the shot."
Winthrop was the first on the board but the length of schools showing interest is quite long, with a few big-time schools coming his way.
Charlotte, Georgia State, Western Carolina, Gardner-Webb, Air Force, Elon, Appalachian State, UNCG, Furman, Ken State, College of Charleston, Denver, Liberty, Bucknell, Lehigh, Virginia Tech, Wofford, Belmont, Princeton, NCCU, Charleston Southern, Ohio, Xavier, Boston, Florida State, William & Mary, Kansas, and Murray State have all shown interest, with Kansas, Virginia Tech, and Murray State being the most recent.
"Western Carolina has been showing a lot of interest, they send me letters every week," Atwell said. "Also, schools like UNCG, Appalachian State, Princeton, NCCU, Charlotte, and Kansas have all kept in close contact with me. Also, Charleston Southern has been in close contact with me."
Kansas is certainly a school that pops out among the rest, as Atwell said that Coach Norm Roberts has been the one in contact with him, just saying that they like his ability to shoot the ball and his size.
It is just the start for Atwell and his recruitment, as more schools should be joining Winthrop with his list. And if anything can be said about the length of interests coming his way, programs from multiple levels are taking notice of Atwell's game this upcoming season.
Question for Recruit:
PHR: You are certainly known for your perimeter shooting.  What has made you so good in that area and the focus you have put into that area of your game?
Atwell: "Well first, I want to thank God for giving me the natural ability to shoot the basketball. Also, repetition is a big thing for me, getting up shots every day, whether it is at home or at the school in the gym. I have to put up shots. In games, I have to get into a mindset that every shot I take is going through the bottom of the net."