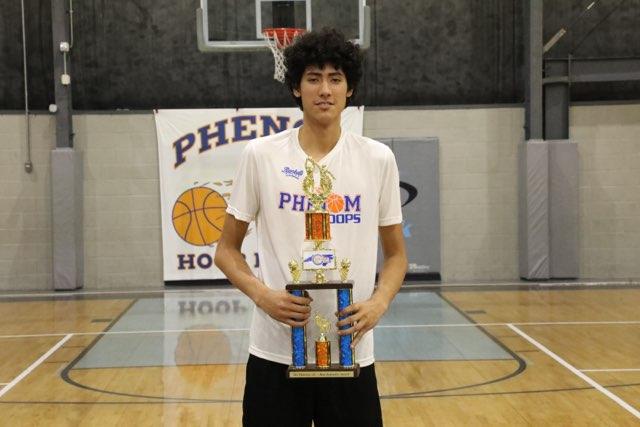 A prospect that is going to quickly rise up the rankings in the 2023 class will be 6'9 Jaydin Spillman-Martin, who was an absolute monster at the Queen City Showcase and backed it up again at the Phenom Challenge.
Phenom Hoops got one of their first glimpses of Spillman at the North Carolina Phenom 150, where he took home Mr. Defense. At the event, you got a chance to see the long-term potential in a young man that is long and wiry but moves incredibly well on both ends of the floor. He utilizes his length really well on the court, running the floor, and showing exceptional timing in blocking shots.
Fast-forward a few months to the events in Rock Hill, you can see that he has only gotten better with his development. He has continued to get stronger and become more fluid with his game but also showing more on the offensive end, posting several 20+ point outings so far this summer.
Spillman-Martin shows tremendous touch and athleticism on the offensive side, while also possessing a perimeter game that may surprise you. With his continuing development on his body, he now can handle banging down low in the paint with forwards, just adding to his ability of running the floor and getting transition points.
The big man does it all and his development to grow.
When speaking with Winston Salem Christian head coach Antonio Lowe, he had this to say in the development of Spillman-Martin.
"Tremendous growth," Lowe said. "I've seen a big growth in his game the last two months but an even bigger growth in his confidence on the court. He has been focusing on his ball-handling and perimeter skills the most; consistency on his shot and a go-to post move."
To put it simply, it won't be long for this young man to be a name heard around the country, especially from what Phenom Hoops has seen the last two weekends in Rock Hill.