There's no denying everything that Andre Gould has accomplished throughout the years as a staple within the North Carolina landscape. From collecting championships to advancing countless players to the next level, Coach Gould has basically seen it all. After spending nearly a decade at Winston-Salem Prep, he opted for a fresh start and took over Quality Education Academy prior to last season (2020-21). He immediately began to accumulate talent, both on the court and sideline, and found himself with one of the better rosters in the area. While some might consider last season a "down" year (especially by Gould's measure), they were young and had various moving parts yet still found homes for their seniors at the next level. This season, they've completely rebuilt the roster (adding guys like Jermaurhiyan Anderson, Nasir Gibbs, and numerous others) and naturally found more success as a result. They definitely have a variety of players who belong in the collegiate ranks, so let's take a closer look at their grouping of upperclassmen…
Seniors:
6'3 Omari Bolden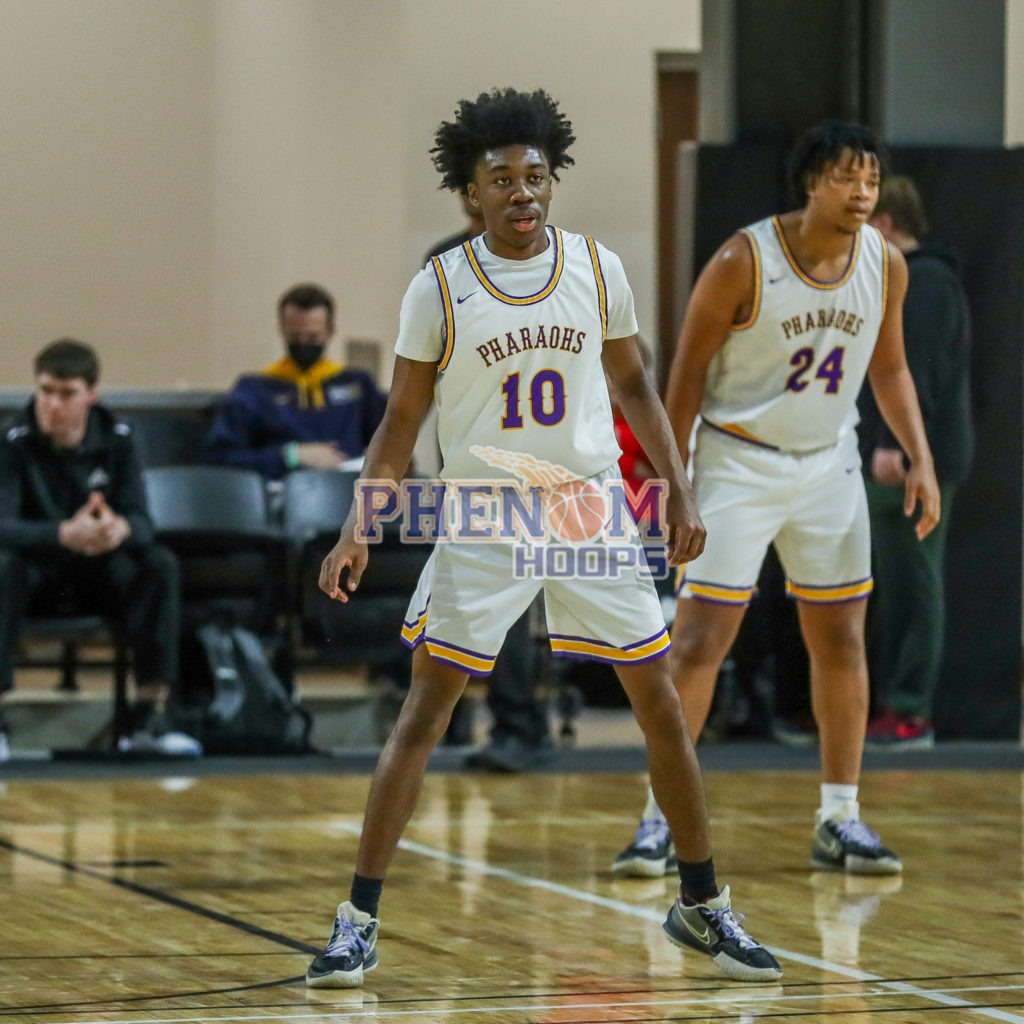 Arguably no prospect on this roster has boosted their stock more than Bolden over the last calendar year. His production has been somewhat quiet, largely going under the radar due to the Pharaohs' incredibly balanced approach. However, it should still be easy to see the translatable skillset amidst everything else. Bolden is a very steady, reliable two-way guard who can initiate offense and set up others but thrives when slotted alongside a primary ball-handler. He can create for himself, generate clean looks off the bounce, or utilize his instincts as a cutter or spot-up threat to stay involved in the offense. Bolden is a quality athlete, defender, and generally well-rounded player who scores the ball at an efficient rate from all levels. He's a great complementary piece who possesses nice feel on both ends of the floor and can expand his production based on team need. Bolden would be a useful fit at various different programs.
6'0 Nasir Gibbs
It's always interesting to examine players in different settings, and Gibbs is a perfect example as to why. Last year, we saw him as a clear focal point for his high school team. The ability was evident, but the lack of structure was preventing him from accessing his upside. Now, Gibbs has visibly changed his approach and looks infinitely better with the new group. While it might seem like the reflection on his time at the previous school was negative, those viewings actually showcased how effortlessly Gibbs can score the ball. Sure, he took some bad shots, but that'll simply happen when a player is tasked with carrying a third of the entire scoring load. Gibbs utilized the experience to grow and seamlessly transition into a condensed role with the Pharaohs. He's tough, crafty, and can score the ball at a high volume from anywhere on the floor. Gibbs can create for himself or others, or find opportunities as an off-guard. He's also a quality athlete and capable defender.
6'7 Anthony Sellars
Despite struggling with injuries throughout the season, there's still plenty to like about Sellars and his overall toolkit. He's a long, wiry, explosive wing/forward prospect with the ability to consistently make an impact in the open floor. Sellars typically works without the ball and looks to apply pressure as a finisher, whether through penetration or as a cutter, but can also knock down jumpers if necessary. He's a useful defender but still has a ton of upside remaining on that side of the ball, especially in terms of versatility. Sellars is a capable rebounder and can push the break in transition. Although already an enticing piece, folks should still be able to see the long-term appeal with Sellars.
6'4 Anthony Reeves
The "undersized" big man/post prospects always tend to get overlooked by the masses, and the productive Reeves is just another example of this notion. He's a strong, sturdy interior piece who does a terrific job of clearing out space, getting quality position, and consistently makes an impact as a finisher, rebounder, and shot-altering presence. Reeves utilizes his body very well to absorb contact and power through opponents. He also understands his role and never tries to do too much on either end of the floor. Reeves is great at securing rebounds, locating a guard, running the floor in transition, and applying pressure as needed on offense.
Juniors:
6'3 Tyler Ledwell
Although the roster has a variety of well-rounded guards, Ledwell is someone who college coaches should start noting prior to the upcoming summer. He's another tough, smart, athletic, all-around piece who can do a little bit of everything within the confines of the Pharaohs' structure. He's an efficient scoring option from all levels, but doesn't require the ball to make an impact. Ledwell also provides a reliable rebounding and defensive presence. Already productive, expect him to take a visible step forward over the next twelve months.
6'4 Jalante Edwards
Similar to his interior teammate above, Edwards plays much bigger than his size and regularly outproduces opponents as a direct result. He's actually fairly versatile and can comfortably play along the perimeter or attack off the bounce while maintaining his strong presence inside the paint. He's an excellent rebounder with the ability to consistently position himself for success. Edwards can push the break in transition but doesn't necessarily need to, as he has no issue finding opportunities as a complementary piece. He's a great finisher and capable defender who thrives within his role on both ends of the floor.