Chemistry is such a significant part of basketball. It's intangible and immeasurable but can often be the ultimate factor for a given team's success or ceiling. Due to this, we've seen teams comprised of quality players overthrow "better" opponents countless times throughout all levels of the game. Obviously, talent is required, but this is why games are played instead of determined on paper. Whether making the extra pass, anticipating a backdoor cut, meticulously carrying out coaching orders, or anything in-between, it all comes down to trust. PSB Larkin has that trust. Even without their usual coach or complete roster, they proved to be a special group at Coach Rick's Tournament of Champions. The group went undefeated (4-0) and really showed no signs of vulnerability despite playing an extremely competitive schedule. It's not an insult to say that PSB Larkin probably doesn't have any Division I prospects, as it only makes their accomplishments more impressive. Each of their seven guys are definite college players who should be assets to their respective spots at the next level. Let's take a look at each of the rising seniors…
6'3 Sam Walters (Myers Park)
When talking about the incredibly loaded Myers Park roster, most people are quick to cite names like Bishop Boswell, Sir Mohammed, and Sadiq White. However, Sam Walters might genuinely be their biggest x-factor on a game-to-game basis. During last weekend's event, his on-court presence proved to be as valuable as anyone's. Walters consistently operated as a main initiator, offering a very steady, unselfish approach as a playmaker. He was able to break down defenders, touch the paint, and finish or make the corresponding pass to set up others. Walters also highlighted a healthy mix of pull-ups and crafty finishes, but has proven to be a lethal three-point shooter over the years. Given how effortlessly he got to the basket, coaches were actually curious about his ability to shoot. Last season, Walters led the Mustangs in three-point shooting at 37% on the fifth-most attempts (52) across the roster. Add in his sheer hustle and willingness to make winning plays, and Walters should appeal to a variety of programs.
6'2 Evan Montanari (Gaston Day)
It's been a long, productive road for Evan Montanari. He's been a relevant player for quite a while, steadily progressing and making strides within his overall development throughout the past four years. Monanari had a nice career at East Lincoln, but ultimately decided to make the move to Gaston Day last May. The move allowed the combo guard to further his game while playing against tougher competition and alongside a new variety of teammates. He enjoyed a quality junior season, and should be even better during his senior campaign. Additionally, Montanari enjoyed a strong showing at Coach Rick's TOC. He was sidelined for their first contest, but immediately added a burst upon suiting up for the other three. He showcased a quality blend of shooting, ball-handling, and passing while providing effort on the glass and containing his assignment defensively. Montanari was able to work within the team structure, score the ball at an efficient rate from all levels, and simply operate as an unselfish cog within this well-oiled machine. Like this entire group, Montanari should entice various next-level coaches.
6'2 Ned Hull (Charlotte Latin)
Few players are capable of maintaining the same production in every possible setting, but Ned Hull is one of the rare exceptions. Whether it's with this group, Charlotte Latin, or even in camps, he's simply an incredibly steady, reliable player. He shoots the ball at a high percentage from anywhere beyond the arc, consistently makes smart decisions with the ball in his hands, and simply knows how to outwork his assignment on both ends of the floor. Hull can create, both for himself and others, or spot-up and pose a lethal shooting threat. He possesses a very smooth jumper and, though he doesn't force it, every shot looks like it's going in. Hull truly does so much for this group, and should honestly be regarded as a main leader. He sets the tone, makes the extra pass, and understands how to do the little things. Hull basically generated as much buzz as anyone on the roster during the event, and should see a ton of schools getting involved over the coming months.
6'4 Clayton Gaither (Providence)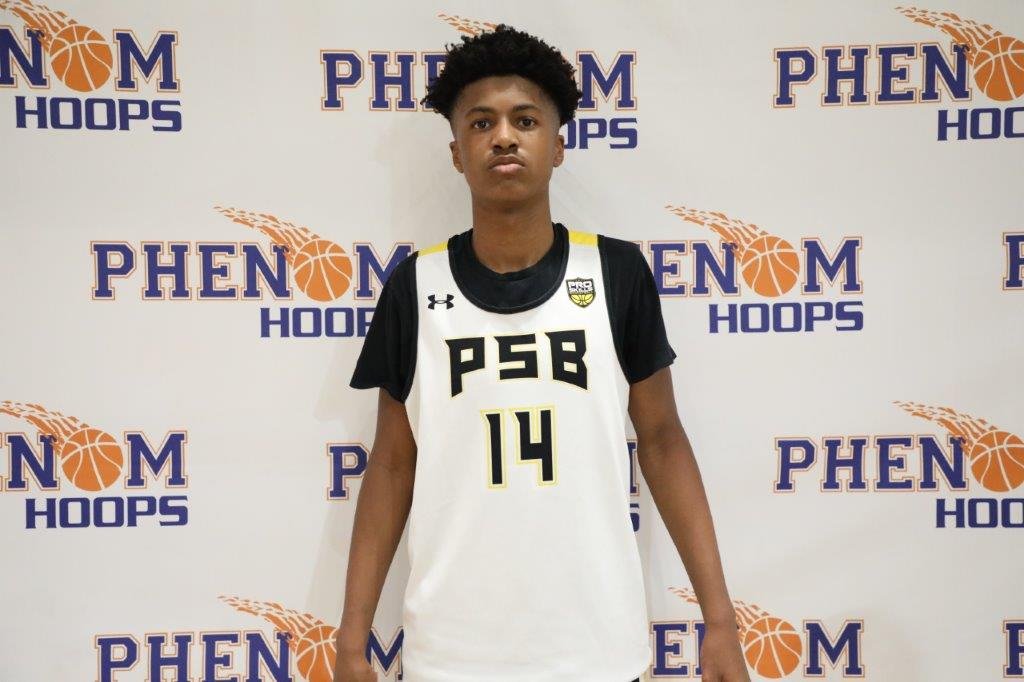 Although the Panthers have yet to enjoy a successful season during his time at the school, Clayton Gaither is a winning player. He's an excellent complementary player with the blend of IQ, size, motor, and well-rounded ability to make a lasting impression in any game. Though Gaither stood out as the clear leader of Providence High School, he's simply the type of player who performs better within a role—as evidenced with PSB Larkin. This past weekend, his energy and natural nose for the ball allowed him to make a constant impact. Gaither is a reliable finisher with cutting instincts, useful athleticism, and the ability to knock down jumpers at a respectable clip. He was arguably the most valuable defensive cog for this group, able to toggle between multiple positions, force turnovers at a solid rate, and make plays in transition. Gaither is a very useful two-way player who embraces his identity exceptionally well. Folks should expect to see him at the next level.
6'7 Fletcher Bigham (Charlotte Country Day)
Although everyone on the roster could probably be considered a "breakout" performer, Fletcher Bigham arguably boosted his stock as much as anyone. He's a long, wiry post prospect with an incredibly polished inside-out game. Bigham is a terrific offensive threat with the ability to score in a variety of different ways, both on the block or along the perimeter. He displays touch, feel, footwork, and craftiness around the basket, but is also tougher than he initially appears. Bigham is a deft passer who looks to set up others and hit the open man whenever possible. He's an active two-way rebounder with the necessary skill to push the break within a few dribbles or attack opposing big men from the wing. Bigham is also a solid all-around athlete who utilizes his length well and can meet opponents at the rim when finishing. He scored the ball at a high percentage from beyond the arc, consistently capitalized on second-chance opportunities, and altered/blocked shots at a strong rate defensively. Though he's now firmly on the radar of college coaches, his recruitment should take off over the coming months at Charlotte Country Day.
6'1 Carter Alessi (Charlotte Country Day)
Though somewhat unassuming, guys like Carter Alessi make a clear difference in the bigger scheme of things. He comfortably initiated the offense and operated as a point guard, but also showed the ability to pose a major spot-up threat without the ball. Alessi is a scrappy, high-motor guard who shows a willingness to play hard and consistently make the right play. Like most of the other guards listed, he made the extra pass, hit shots within the flow of the action, and contained his assignment defensively. Alessi offered a steady, straightforward identity, and turned the heads of college coaches as a direct result. He should see an uptick in his recruitment sooner than later.
6'2 Evaan Ezhilan (Mooresville)
There are so many balanced backcourt pieces within this PSB Larkin roster, and that certainly includes Evaan Ezhilan. He's a smart, unselfish, well-rounded guard with vision and perimeter shooting. Although each of these guys tend to produce within the flow of the action, Ezhilan might be the steadiest player on the roster. He's able to naturally do a little bit of everything, from shooting to playmaking to making an impact on defense, and does so with a very calm demeanor at all times. Last season, he posted per-game averages of 7.5 PPG, 2.6 RPG, 2.9 APG, and 1.8 SPG with shooting splits of 47/39/85. The numbers aren't gaudy, but they certainly show Ezhilan's overall value as a guy who can succeed within the bigger picture. He doesn't need twenty shots to impact a game. Like the others mentioned, Ezhilan is a college-level player who should be a useful piece wherever he ends up.
Additionally, 6'5 Kaamil Domingo (Myers Park) is a prospect who should appeal to college coaches. He did not attend during the recent event, but certainly has a place at the next level through his size, motor, and willingness to make hustle plays. Also, Coach Chris Caputi brought an infectious amount of energy and was truly brilliant on the sidelines—both in terms of motivation and actual game planning.