Submitted by Coach Ryun Cook
CC Elite has earned recognition as one of the top grassroot organizations in North Carolina. Players like Patrick Wessler, Chase Lowe, A.J. Cook, Kyle Frazier, Jacob Fisher-Davis, and Brandon Lavitt have all moved on to play at the next level.
The 2024 group features four guys who have been playing together since winning the NTBA National Championship in 2019 coached by Ryun Cook. Now with Tyler Johnson at the helm and Cook assisting they went 5-2 with a loss in OT and wins over Garner Road Select, Team Bond, NC Spartans, Carolina Riptide, and a Team Loaded team out of Virginia in the last live period with Phenom Hoops. Now they have loaded up and are playing up in 17U for the final Live Period in Rock Hill.
Grant Hamilton 6'0
Guard-Weddington High
Quickly earning mention as one of the top shooters in the state in the 2024 class. Elite scorer who should have a breakout season for defending champs Weddington.
Josh Clark 5'11
Guard – Marvin Ridge
All conference as a sophomore
The ultimate high motor guy every team needs. Clark runs well in transition and finishes at a high rate. He gives this team the energy that it needs on both ends of the court.
Cam McKinney 6'5
Forward Parkwood
McKinney is an extremely skilled forward who can shoot the 3, drive from the wing, or take you inside. He joins this team for the first time and may be exactly what they need to compete in the 17U division. He is poised to have a big season at Parkwood High School and should be catching plenty of attention from college coaches.
Bryson Heath 5'11"
Point Guard-Butler
Heath is going to play a huge role for a talented and exciting Butler team this year. He is a pass first PG that is lightning quick. He plays lockdown defense and is strong enough to guard multiple positions. Bryson can get to the rim at will, but is also a threat from 3. This will be his first tourney with this group and really fits in well with their fast-paced transition offense.
Lucas Strickfaden 6'4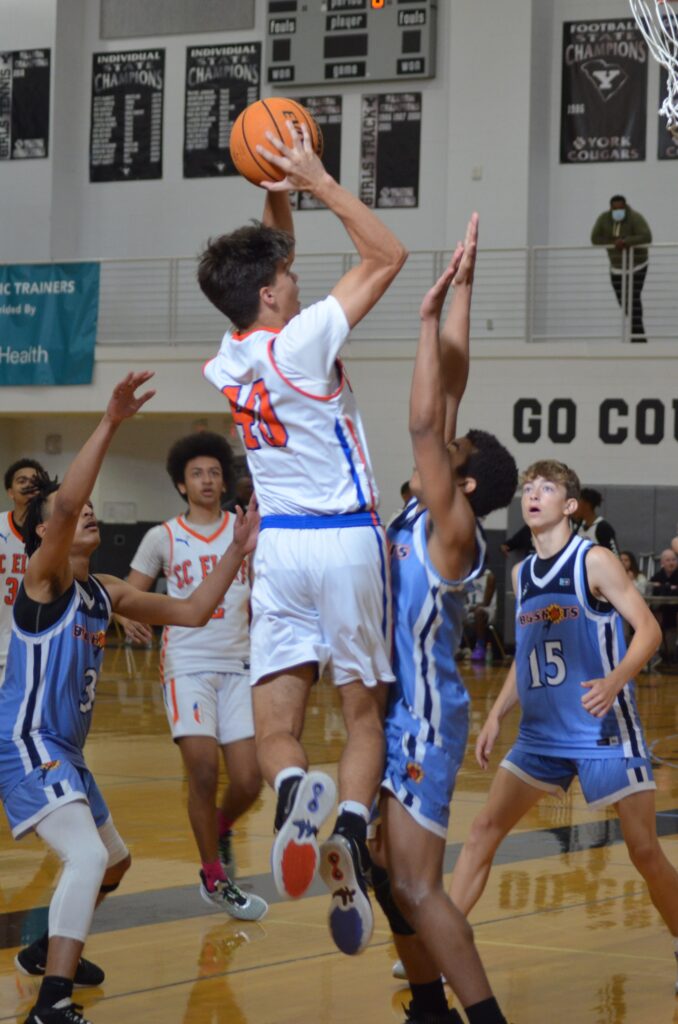 Forward-Pine Lake Prep
Lucas started on varsity as a sophomore and looks to have a breakout season. He is a long forward who plays hard and smart. Strickfaden runs the floor in transition very well and can knock down the 3.
Aidan Cook 5'11
Guard – Weddington
With Weddington losing a historic senior class, Cook as been starting for the young Warriors all summer. He is a pass first point guard that really looks to pass the ball up the floor and keeps this team moving in transition. He is a pesky defender and a crafty guard who can get by you and also knock down a 3 when needed.
Jaiden Morris 5'11
Guard – Weddington
Morris is yet another unselfish smart lead guard for Weddington and this CC Elite squad. He pushes the ball up the court and helps with the tempo they want to play with. He is a very solid defender and can provide scoring in multiple ways.
Sam Neely 6'0
Forward – Weddington
Neely is probably the best athlete on this team. He can guard just about any position with his strength and athleticism. Sam is a big-time defensive back for the Warrior football team and brings energy to this squad.
Jaqai Carter 5'11
Guard – Cuthbertson
Carter is coming off of a major injury from his sophomore year, but has really show that he can score the ball. He is quick on the defensive end and is capable of guarding the point guard position.
Danny Taborda 5'8
Guard – Providence
Taborda is an ultra-quick pass first point guard. He is a tenacious on ball defender who never gets tired.