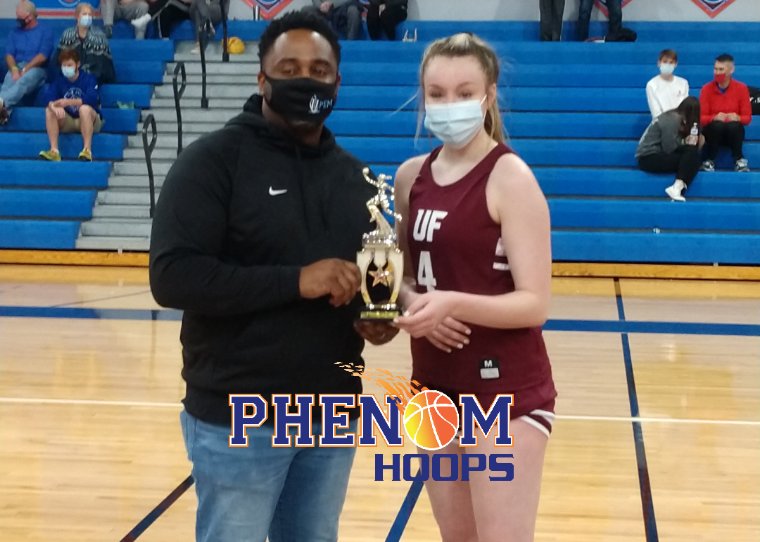 2021 6'0 Marianna Converse (Spartanburg Day): Converse has good length and versatility to her game. She can play multiple positions, gets on the boards, and showed she can score inside and out. Confident looking shot as well as being able to get on the boards and push in transition.
2023 5'10 Maddie Becker (Spartanburg Day): Becker has good size for a younger prospect but really made her mark with her confident, smooth shooting stroke. She was able to get to her spots and show her range from behind the arc but also be active around the paint.
2021 Josie Hester (United Faith): By far the best player on the court, as she was relentless on both ends.  Offensively, she does a tremendous job of moving without the ball to get her shot, but also pushes the ball in transition and attacks defenses to either score or get to the line. Hester also shows that she can be a leader for her team, being unselfish, and making others better around her. Impressive showing from the UVA-Wise signee today.
2023 Zion Duncan and 2023 Valeria Batista (Victory Christian): The two forwards played well, especially for two younger prospects. Duncan did a solid job getting on the glass, using her size to get on the boards and block shots, while also showing touch in the paint. Batista is a forward that moved well up and down the court, running in transition and finishing well. Also did a good job in being a force in the paint as well. Two young players to really keep an eye on.
2021 Bethel Ekperigha (Victory Christian): Quick guard that did a tremendous job in leading the charge, creating and penetrating the defense with her dribble. She also displayed a strong jumper but really took control in initiating the offense, breaking the press, and attacking the defense with her handle. Ekperigha stepped up big in overtime with a big basket to help give her team the win.
2021 Desiree Smith (Trinity Christian): Smith was a force on both ends for her team, really having to battle it out in the paint, took the contact, and played a physical game. The 6'2 forward moved well and battled as well on the floor.
2023 Zoey Ward (Concord Academy): Ward played a good game vs Legion, as the showcased her ability to step out and knock down shots from the perimeter but also battle down low and use her frame to work through contact.
2021 Reagan Dickens (Concord Academy): Dickens captured our eyes with what she provided outside of scoring. She was able to find her name in the scoring column but it was her relentless motor and energy on the court, especially on the defensive end. She was scrappy, created turnovers, and created havoc vs. defenders, and can play multiple positions on the floor.
2023 Nadia Burns (Legion): The younger sister of Winthrop's DJ Burns, Nadia caught our eyes with her skillset. Burns showed a little bit of everything on the court; how she can battle down low, get on the boards, and score around the rim, but also showed that she can create off the dribble.
2026 Jaida McClure (Comenius): It's hard to believe that she is in seventh grade because she doesn't play like it. She has a ton of confidence in her game and brings swagger to the court. First off, you see her ability to step out and knock down shots. Add on top of her ability to be a shifty ballhandler, McClure is one to really keep an eye on down the road.
2024 Mila Holloway (Covenant Day): There is another Holloway in the state of NC that you need to get to know about. She is tremendous in the open floor and brings that same quick, shifty guard skills that Aden has. Mila's ability to push the tempo, attack defenses, and either get to the rim or pull up is impressive for someone so young and she looks to be a big-target down the road.
2022 Eseosa Imafidon (Covenant Day): Imafidon certainly brings size, standing around 6'6 and being an absolute force down low, either blocking shots on the defensive end or getting on the boards on either end. She is still raw offensively but she did show nice touch around the rim but there is a lot to work with and potential with Eseosa.