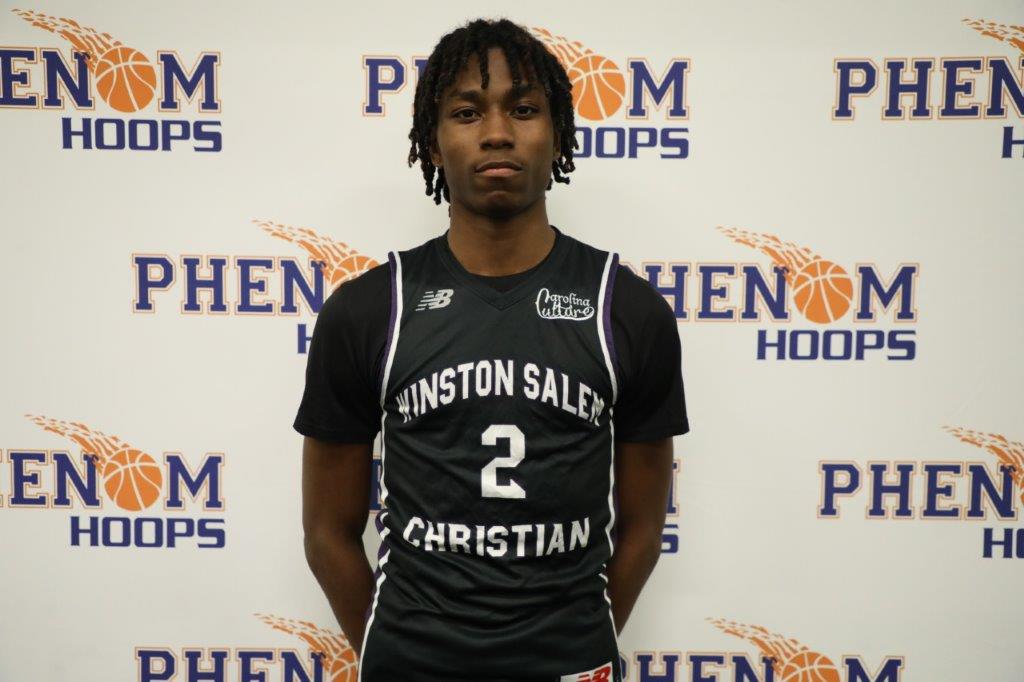 2022 Quante Berry (Winston Salem Christian): Really liked what I saw out of the Providence commit. He wasn't filling up the stat sheet as far as scoring but Berry was making play after play on the floor to help his team. On several occasions, he was able to create with the dribble and eventually set up/ find his teammates for easy baskets. But he also got out and took advantage of the scoring opportunities ahead of him and he used his size to get on the boards. Really played well in an array of ways for his team, especially being a playmaker.
2022 MJ Collins (Westminster Catawba): Collins continues to impress with his game and we are going to say it now, Virginia Tech fans are really going to like what they get from him down the road.  Collins is a smooth operating guard that can be one of the best shooters in the region, especially from deep.  We have said it quite a few times, but he makes tough shots look easy and he isn't afraid of the spotlight.  With his blend of athleticism, shot-making, and play-making ability, Collins checks of a ton of boxes that should allow him to have a huge season.
2023 Avion Pinner (The Burlington School): The Burlington School really showcased how strong they can be on the court and it was Pinner that was leading the charge. The 6'7 fluid athlete certainly put together some highlight plays, getting out in transition well, finishing at the rim, and scoring well in the paint in the halfcourt setting. He impacted the floor in a variety of ways and was extremely active offensively and on the boards.
2022 Willie Lightfoot (NC GBB): It took a little while for Lightfoot to get in on the action but he really stepped up in the second half with his offensive and defensive presence. He is a very good on-ball defender that plays hard and gets up into his defenders. Offensively, he uses his speed and ability to create space to find his shot but also was able to get into the paint as well. Strong guard that is one of the leaders for NC GBB.
2024 Kany Tchanda (Concord Academy): Tchanda is going to be a name that you will want to jot down.  Just a sophomore on the floor, there is a lot to like about this young man's game and what his potential could be at the end.  But, right now, you just don't see many 6'9 young forwards possess the skillset that he has; has the ability to put the ball on the deck, create for himself, moves very well for his size, and is quicker than one may expect.  Add that to his ability to pop out and score with his jumper as well as his length he uses on the defensive end, expect to hear his name a lot more.
2022 Jalen McDonald (Liberty Heights): McDonald was very solid for his team in the win on Day 1, especially with his activity level on the court.  Many already know about his athleticism on the court and just how explosive he can be when getting at the rim… and he showed that once again. But he also showed how good he is with his body control and ability to finish around defenders, his impact on the boards, and making plays on defense (deflections and steals).
2024 Amare Bethel (Charlotte Country Day): Only a sophomore, Bethel showed flashes of what he is capable of doing. A skilled guard, Bethel does a nice job in displaying his athleticism, finishing well in transition, creating space for his jumper, and just simply making plays. There is a lot of room to grow with his game and loved his competitive nature on the court.
2023 Anthony Robinson (Christ School): Though it wasn't the best offensive game and shots just didn't' fall, the big man was incredibly strong on the boards and finished strong at times at the rim. At 6'10, Robinson was the biggest player on the court and really impacted the game with his ability to limit possessions, attack the boards, and finish strong.