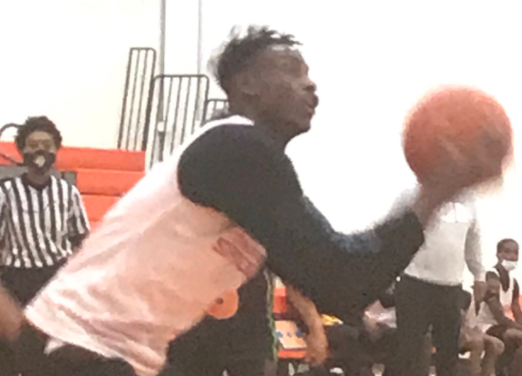 Zekhi Darden 6'5 170 2024 Kings Fork High School, Suffolk VA 
Zekhi is a long and freakishly athletic player with ridiculous bounce and exciting upside.  He has impressive versatility with the ability to drop step and dunk on you in the post, make a dribble move and get to the rim and dunk on you or spare you the bad side of a highlight reel and just bury a three-pointer.   Around the rim, he is as dominant as any player in the 757 using his length, strength, great motor, and his athleticism that allows for quick elevation and excellent repeat jumping ability.  Although he prefers to front pivot and make a move he can score with his back to the basket using a strong drop step or showing a competent jump hook.  He is relentless in pursuit of rebounds and his long wingspan allows him to snatch rebounds outside his area.  He is strong enough to defend bigger players but his quick elevation and explosive bounce allow him to play much taller than 6'5!  
Zekhi can also catch a pass on the wing and make a quick dribble move and get to the rim where he showed the ability to not only throw down rim rocking jams but finish off the glass nicely.  He has a developing perimeter game and when he gets his feet set he can bury the three-pointer with good consistency showing a fluid stroke, good mechanics.   He is quickly improving as a perimeter threat and I expect will develop into an impact wing in quick order.  He shows comfort away from the rim, handling the ball well enough to get his shot off the bounce, and also shows the awareness to find open teammates with the pass while on the drive.  He's a next-level prospect for sure and how high will depend on his perimeter development but make no mistake he is a man inside that paint!  
Zekhi is quick-footed and agile and can defend either wing while also being an impact rim protector.  He plays with energy and loves to compete.  He runs the floor with graceful strides and shows excellent end to end speed.  Zekhi is a very good shot-blocker showing very good timing in addition to his quick and explosive elevation ability.  He can grab a rebound off the glass and go coast to coast with good quickness and makes good decisions with the ball.  His frame suggests still more vertical growth but he has the broad shoulders and a body that can hold the extra muscle sure to come within his development.  He will be as good as he wants to be and he's playing for a coach at Kings Fork High School in Rick Hite who has developed pro athletes so he will have the guidance to maximize his potential.  Zekhi is a must-see for college coaches at the D1 level!  His potential is undeniable!