Phenom Open Gym: Chambers High School
Last season, JL Chambers went 22-7 before losing 58-56 to eventual NCHSAA 4A state champion, Weddington High School. From the outside looking in, many basketball pundits may not have high expectations for Coach Brian Frasier's team. 6'2 Jaylen Curry transferred after averaging almost a "double-double" of 16.6 PPG and 9.1 APG. 6'8 All-Conference Player of the Year, Daniel Sanford graduated and signed with the University of South Carolina. Sanford averaged 16.5 PPG and 7.9 RPG. In addition, Chambers lost Antoine Piper (8.9 PPG), and Kendall Smith (4.7 PPG) to graduation. In other words, Coach Brian Frasier has to replace 65% of their scoring from last year's team. For many coaches, this would add additional stress levels about the upcoming season, however, Coach Frasier has never focused on the past or what could have been, but is always focused on the current season. While many may think Chambers has a monumental task of repeating last season's success, don't feel too sorry about the upcoming season. In speaking to Coach Frasier, he stated, "I really like our team. We will have good balance and may just surprise some people." After watching open gym, we are in agreement with his assessment of this year's team. Now, let's take a closer look at the key players for the 2022-23 basketball season.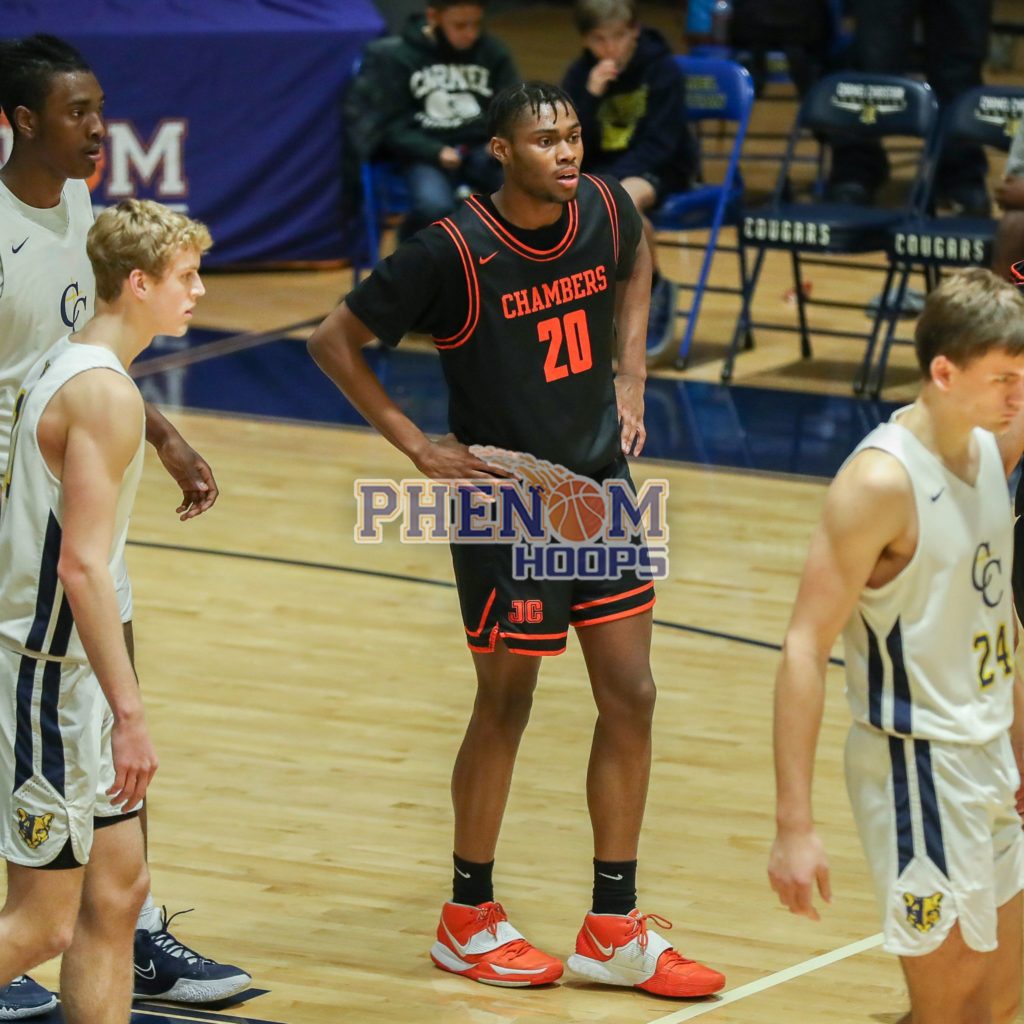 6'7 '24 Maurio Hanson
While Hanson was feeling a little under the weather and did not practice, it's no secret that he will be the anchor for Chambers this season. He will be the team's go-to guy and should average a "double-double" this season. Last year, Hanson averaged 12.0 PPG and 6.6 RPG. Look for those numbers to increase dramatically. He is currently ranked no. 16 in our most recent North Carolina 2024 ranking. 
6'7 '23 Nick Dorn
This should be Dorn's breakout season. Dorn has grown in height, strength, and matured as a complete all-around basketball player. He has a strong frame from the wing position and can score from all three levels. .  Look for Dorn to provide senior leadership that will be needed with another tough non-conference schedule. Dorn has been a reliable 3-point shooter and will once again provide perimeter scoring for Coach Frasier. He has a chance to become a 20-point scorer this season if he puts it all together. 
6'3 '24 Jordan Patton
Patton may be one of the most improved players from this past summer. Always known for his high energy and full throttle approach to the game that impacts the game and so many ways. He's the type of player that does all the little things that doesn't always show up in the box score. He has excellent anticipation defensively, rebounds extremely well for his size/position and just has a knack getting loose balls, not to mention an outstanding "on the ball" defender. Look for Patton to step up and add a third scoring option for Chambers this season.
6'2 '23 Jahmir Brown and 6'5 '23 Marcus Brown
Jahmir and Marcus both transferred from Covenant Day and will be impact players from "Day One." Jahmir averaged 10.1 PPG while his brother Marcus averaged 9.6 PPG last season and both have the ability to do the same for Chambers. They will provide valuable senior leadership and experience and should fit and blend in nicely with the current roster. Both are tough, blue-collar players that also are known for doing all the gritty work on the basketball court.
The Freshmen Trio
Three freshmen that made an immediate impression at open gym were 6'2 Tarris Bouie, 6'3 Cameron Thompson, and 5'8 Malik McCotter. Bouie and Thompson made the biggest impact at open gym and could get significant minutes as a freshman. While Bouie is super thin with a long frame, he has an excellent feel for the game. Simply put, Bouie is advanced beyond his age/grade in his court vision and passing ability, especially with his ability to make the "post entry" pass. With extremely long arms, Bouie has a chance to be a very special player. Thompson was reliable and steady and was probably the leading scorer at open gym. He too has a nice feel for the game and was always in the right place at the right time for scoring opportunities.
Depth at the PG position
One thing is for certain, Coach Frasier will have quality depth at the point guard position. Look for Jahmir Brown, Amari Richardson and Chandler McKoy to provide quality play as the team's floor general and will share duties as a replacement for Jaylen Curry.
Outlook
While Chambers lost two national level players in Curry and Sanford, this year's team will have plenty of balance and overall depth. Expectations may not run as high this season as last season, but Chambers has a core group of players that will play hard, play together and may just be the surprise team in the Charlotte Metro area. Look for them to compete once again for a conference title.