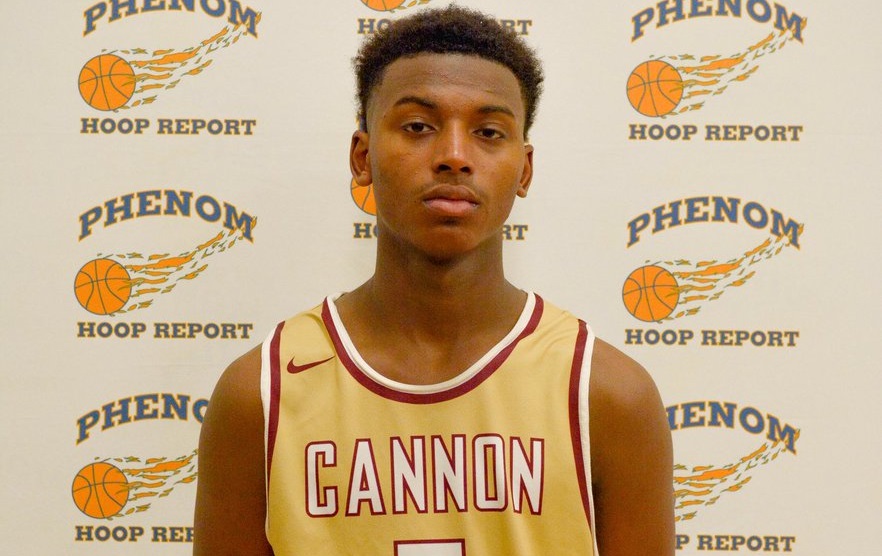 Ranked as the top player in the 2022 class in North Carolina and a Top-10 talent in the nation, Jaden Bradley certainly has made a name for himself in such a short time.
Coming off a state championship run and earning NC Player of the Year accolades, the sophomore is riding high and is continuing to rack up offers from around the country. Grabbing the attention of blue-bloods along with several other high-major programs, Bradley is continuing to soak it all in and is staying focused on his game.
In our next Phenom Hoops Player Blog, we sit down with Cannon's very own, Jaden Bradley
---
---
In your own words, describe your overall feelings with how this season went for Cannon?
The season went tremendously well, having one of the hardest schedules in the state. We competed in every game.  Coming into the season we knew the goals we wanted to achieve. We also knew what we had to do to achieve those goals, I feel like everyone bought in.
What uphill battles did you all as a team have to face?
Every game was a battle, nothing was handed to us. Games that stood out as the biggest battles were Charlotte Latin, Greensboro Day School, and Dorman.
You played a tough schedule this year, how did that help you prepare for your playoff run?
To prepare for our playoff run, it started in practice. Just knowing that we were only guaranteed one game, we were motivated because we got eliminated in the second round last year; it was up to us to go as far as we allowed ourselves. So, in practice, we pushed ourselves to another level; competing even harder and just taking it one game at a time.
Let's head back to the championship game, first what was your mindset coming into that game and what was the energy around your team heading into a tough atmosphere?
We knew coming into the game that Charlotte Latin was going to come out strong.  It is extremely hard to beat a team three times in one season and having to play that team on their court was a challenge. Our team knew we had to really lock-in. We were really excited to be in the championship game; the energy was crazy in the gym and the Cannon Crazies made it more like a home type environment. (We really appreciated them so much.) We didn't want to be known as the team that made it to the championship and tried their best; we wanted to win. 
Securing the title, what thoughts were running through your head after it all, completing the journey on top?
After the last buzzer, it was a crazy feeling knowing that all the work we put in paid off. I was excited for my team and my brothers; our last game together we went out on a good note.
With your game individually, what was your mindset all throughout the season, playing as one of the top players in the country and players always coming after you?
My mindset throughout the season was just to do whatever was needed to win whether that was attacking the basket, motivating my teammates, rebounding or scoring and the rest would take care of itself. For me it all starts in practice, having tough practices helped me a lot. Physical practices made me more comfortable with contact every day and pushed me to get better. The final game was a microcosm of the entire season, our hard work and will to win kept us in a position to be successful.
What did you want to show as far as your game? Did you look to improve in certain areas this past summer that you were able to display this past season?
One of my personal goals this year was showing improvement as a leader since I am known to be a soft-spoken guy. I wanted to show my ability to stretch the floor and be a two-way player. This past summer I worked to improve my game as a whole and show growth in all aspects of my game.
You have earned a number of accolades this year, including MaxPreps Player of the Year in North Carolina. What was that like for you learning that you were receiving that honor and even more, as a sophomore?
I'm very blessed to be able to receive those awards. I want to thank my parents and my brothers for putting me in a position to be successful. I also want to thank my coaches and trainers for all their hard work and belief in me. Earning these awards as a sophomore is very humbling, it motivates me to continue to work hard and become a better player.
You are very familiar with receiving a lot of recognition around the country and especially in the state of North Carolina. But how do you keep yourself in check and focused on the future, continuing to grow as a player and as a person?
My family keeps me grounded; we lead a really quiet life on most days. I am excited for every honor and accolade I receive; I use it as fuel to push and challenge myself.
With the uncertainty of what this summer holds for you, what have you been focusing on and working on? Anything that you have specifically been focusing on?
I have been focusing on my mobility, strength, and conditioning since those are things I can do in my garage. I still get shots up since I can do that in my backyard.
As far as recruitment, you hold offers from all over the country. What has it been like knowing that all these programs are wanting you and still just a sophomore, that that list could continue to grow?
I'm blessed to have these schools wanting me to be a part of their program. I know I cannot become complacent because things could change at any time. I just have to continue to work hard and the list will hopefully keep growing.
Have you been able to soak it all in with your recruitment? Does it still surprise you at times with everyone trying to recruit you early on?
Yes, I have been able to soak it all in. It's an honor to have all these schools interested in me this early.
Your last two offers were two blue-bloods from Kansas and North Carolina. What was it like receiving those types of offers and what did each have to say when they offered you and what kind of bond have you been able to develop with them?
I was speechless when receiving those two offers, I was very excited. Both coaches talked about how much they liked my character and talked mainly about impacts off the court. My father, who is an AAU coach, keeps in contact with all the schools since I am not allowed to yet.
Speaking of offers, as mentioned above, you hold double-digit offers from around the country from high-major programs. Have any schools in general been sticking out to you throughout this recruiting process?
I appreciate all the love these programs and coaches are giving to me and my family.
Outside of offers, which schools have been expressing strong interest your way that have yet to offer? What have they been saying to you?
I have been receiving interest from Kentucky, Louisville, Vanderbilt, Army, and Duke. Kentucky and Louisville check on me from time to time to either congratulate me on an award, but mostly just to ensure that I and my family are doing well. I really appreciate that.
What have been some of the main messages' coaches have been talking or telling you about throughout the process so far?
Coaches tell me to make sure I'm taking care of business off the floor, listen to my parents and continue to get better every day.
You have been on multiple unofficial visits to schools so far. What schools have you been able to check out and get a better perspective of? And if you don't mind, what stood out about each one of those schools or what did you like or see while there?
I have been on unofficial visits to Tennessee, Wake Forest, UNC, Florida State, Kentucky, Clemson, and Auburn.   I enjoyed each of those visits, some were during football season (Tennessee and Clemson) so it was really fun to tailgate and go down on the field before games. Each school has a really exciting atmosphere and their student sections are always hyped from beginning to end. The Kentucky visit was during the Blue and White game, that was something I grew up watching so I was very excited to be a part of that. The UNC vs Duke game was intense, the energy was crazy. I can't forget about the other games I got the opportunity to go to as well (Auburn, Kentucky, and Wake Forest). There isn't one thing that I would call out, it is a collection of memories that I will never forget. All the campus tours and people that I have met, I just appreciate how much effort they put in to making me feel like a priority.
Also, what was the USA Junior camp like for you? What did it show you and what did you enjoy the most from there?
The USA mini camps were a great experience for me. They were great coaches that gave me great advice and helped me. Also, they were very competitive, it showed me that you need to do the little things that matter to improve your game and stand out. For example, driving the floor, closing out and attacking the basket.
It is still early in your recruitment but what are some factors that you are looking at early on or wanting to hear when you talk to coaches?
I want to know how they think I would fit into their program and how they coach point guards; those are a few of the things I think are important to know.
---
Get to Know the Player:
Anyone that has played in the NBA, who would you say best resembles your game and why?
I am not really sure, but I have heard comparisons to Penny Hardaway.
Who do you look up to for guidance or to be a role model for you?
I look up to my brother Nathan Bradley, Isaiah Stewart and Pat Williams. I talked to these guys daily about stuff on the court and off as well.
During your off time and not on the court, what are some of your favorite activities?
I like to hang out with my family and friends. I play video games on the weekend and I like to watch Netflix.
If you had one meal that you could eat for the rest of your life, what would it be?
Definitely would be Chicken alfredo pasta, my mom made this awesome baked pasta dish before every game.
What other sport would you play outside of basketball?
I used to play football and baseball, if I had the opportunity, I would play those sports again.
What is your favorite subject in school?
History
Growing up, did you have a dream school or a school that you always seem to follow?
I didn't have a dream school growing up, but I always wanted to go to whatever school my brother Nathan went to.