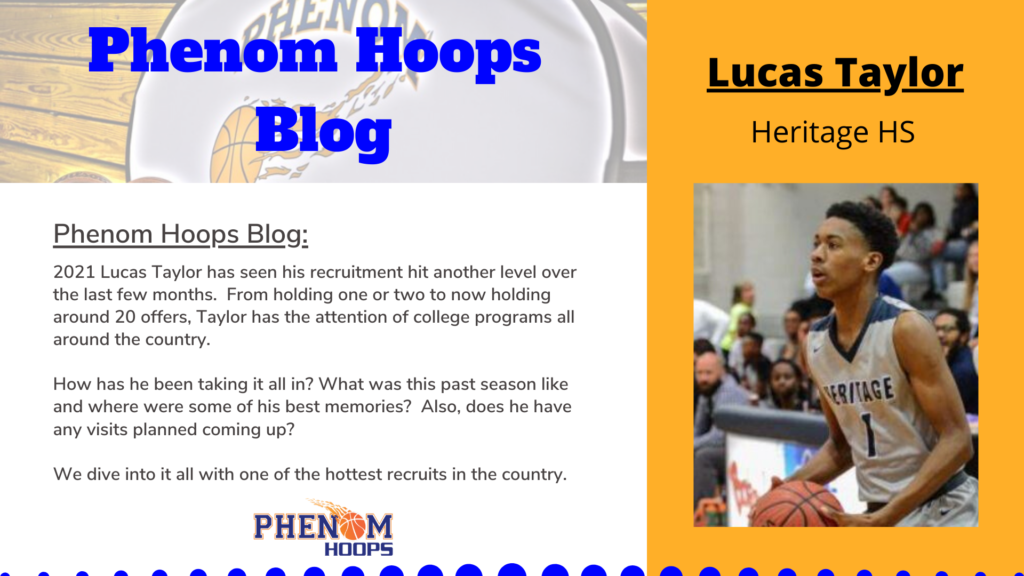 2021 Lucas Taylor has seen his recruitment hit another level over the last few months. From holding one or two to now holding around 20 offers, Taylor has the attention of college programs all around the country.
How has he been taking it all in? What was this past season like and where were some of his best memories? Also, does he have any visits planned coming up?
We dive into it all with one of the hottest recruits in the country.
---
PHR: How has everything been going for you, finishing up the year in school?
Taylor: It has been good really, in that summer grind now.
PHR: Days haven't been typical like before but what has been a typical day like for you these days?
Taylor: Usually workout from 7-9 am depending on the day, I will lift and then go back to the gym that night.
PHR: How has everything been going on the basketball side of things? What has been a daily routine been like for you?
Taylor: Really just been grinding working out every day 2-3 times.
PHR: Going back to this past season, how did this season go overall in your thoughts?
Taylor: I feel like it went really well. We won our conference went 8-2 which was one of our goals.
PHR: Heritage started off the season with some tough losses against some good teams. What did that do for you all and show you all as far as a team? What kind of learning experiences did that provide?
Taylor: I always want to play the best teams during our non-conference, it gives us great experience right away and gets us ready for conference and playoffs.
PHR: You started to really click in January and eventually went 8-2 in conference play. What changes did you see with the team and how important was it to win the Northern Atlantic Conference?
Taylor: It was big for us to bring the banner home after Wakefield got it last year. We had a lot of you guys step up, Kaleb Hedgepeth, Evan Ashe, and Justin Monden which helped us a lot.
PHR: Was there a game or a moment that really stood out to you this past season? If so, what was it?
Taylor: Probably hitting the half-court shot to beat Rolesville in conference play
PHR: Your game has really taken big jumps over the years. Looking back from your freshman year to your sophomore, you took a big jump early in your career. What changed during that time with your mindset and your game?
Taylor: Just trying to really expand my game from being just a shooter to an all-around scorer. Getting my handle tight and becoming more athletic.
PHR: From your sophomore to junior year, you took yet another jump. What was your focus last summer and what were some areas that you really wanted to focus on to get to where you are today?
Taylor: Expanding my game even more, getting an even better handle and getting my range even further out to beyond NBA range. This summer, I want to really become stronger and be able to use my body more. Getting my handle even tighter along with helping the underclassmen.
PHR: Now you will be heading into your final year… What is your focus now on and what goals do you have set for yourself?
Taylor: Win a state championship for Heritage.
PHR: For people that haven't seen you play a ton, how would you best describe your game? How do you like to attack defenses and where do you flourish on the court?
Taylor: I can score on all three levels and can really finish above the rim. Can shoot from NBA range as well. Like to be efficient with my dribble getting to my spots as quick as I can without wasted motion.
PHR: This summer has been a unique one but what are you hoping to showcase with your talent this offseason?
Taylor: Ability to create for teammates.
PHR: As far as your recruitment, it certainly has changed in the last year. First off, how has the ride been for you with offers coming in from all over the country? Has it really sunk in for you yet?
Taylor: Yeah, I would say it has. It has been a grind since 6th grade to get to this point and still nowhere near done yet got a lot more goals to achieve.
PHR: What do you think really changed the minds or captured the eyes of coaches that have led to a slew of offers your way?
Taylor: I would say being a 6'6 guard that can really shoot and but also create for his teammates from being able to see over the defense along with using my length on defense.
PHR: What has been the general message you have been hearing from college coaches in how you would be able to fit into their system?
Taylor: My ability to score in transition and stretch the defense.
PHR: Was there an offer that really made you think that your recruitment had changed? Or a moment that you remember?
Taylor: All the offers have been great; they all stand out in unique ways.
PHR: You have offers from all over the country, so we will start with some of your most recent offers. Virginia Tech and Wake Forest from the ACC have offered, Arizona State recently offered as well. What was it like to receive those offers?
Taylor: It is cool to hear from schools I have seen on TV and things like that but I am staying open right now to mid and high majors to see what the best fit for me will be.
PHR: What schools have you been able to visit (in person or virtually) and did anything stand out about them that you liked?
Taylor: I have gotten to see a lot of different schools virtually rather than in person before the virus. They all had different qualities that were really cool.
PHR: What schools seem to really be recruiting you're the hardest at the moment that has offered? What kind of relationship have you been able to develop with them?
Taylor: I would say all the schools that have offered consistently talk to me. Been in contact a lot with all of them.
PHR: I'm sure there are several other schools that have been expressing interest your way. What schools have been showing interest and could be next to offer?
Taylor: There is a good amount but different schools operate different ways so it is hard to tell. Just have to wait and see.
PHR: When you talk to programs and coaches, what are some factors that you are looking for or listening for? Anything specific on the basketball court you are looking for?
Taylor: Somewhere I see an opportunity to earn playing time as a freshman and a family environment within the team and coaches.
PHR: Do you have any upcoming visits and if so, when?
Taylor: No visits lined up yet but probably soon though.
PHR: When might you be looking to decide or narrow down your list?
Taylor: Not until I can get on the campuses.