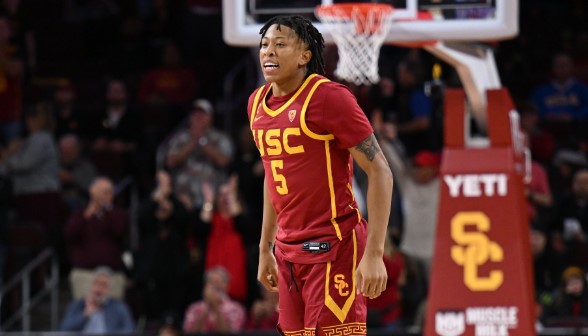 Sitting down to watch a terrific Pac-12 matchup, UCLA was looking to sweep USC as the Bruins were on the road Thursday night.  USC played well early on to gain the early edge, but UCLA was attacking down low in the paint early and finding success with Jaime Jacquez and Adem Bona.  It is what helped them regain the lead halfway through the first half, and then the guard play started to take over with Tyger Campbell going for 10 first-half points, and David Singleton knocking down three 3-pointers to give UCLA a 37-25 halftime lead.  UCLA was strong on the boards, earning 10 second-chance points early on while USC relied on outside but only shot 31 percent from three in the first half.
Second half, just like the time before vs. UCLA, USC was able to come out hot and cut into the lead and eventually take the lead halfway through the second half and they built their lead to as many as nine in the second half. USC went on a 20-2 run in the second half, as Boogie Ellis was the one that came alive in the second half along with Drew Peterson also making plays. But in all, it was the Ellis show in the second half, as he tied UCLA by himself in the second half and finished the game with 31 points. After being down by 12 at half, USC outscored UCLA 52-27 in the second half and secured the 77-64 victory.
Final: South California 77 – UCLA 64
Stats:
USC: 31 points, 6asts, 4rebs/ Drew Peterson 16pts, 4rebs/ Kobe Johnson 10pts, 5rebs, 5asts
UCLA: Jaime Jaquez 15pts, 8rebs/ Tyger Campbell 14pts, 7asts/ Amari Bailey 11pts
Standouts:
Boogie Ellis (USC): Ellis absolutely stole the show and carried his team to the victory against UCLA.  After having a slow start with only four points, Ellis went off in the second half, scoring 27 points. He elevated his play in a big way, finding ways to score the ball, knocking down shots from the perimeter, hitting big shot after big shot, and also making plays in other areas.  He simply took over offensively, scoring from all levels, and playing with a ton of confidence. Took over the game and created so many shots for himself.
Tyger Campbell (UCLA): Campbell had a very good first half but struggled at times in the second half. But overall, I really liked Campbell's pace and ability to create.  He did a nice job in penetrating and kicking to find set up his teammates, ending the night with seven assists, but also knocked down shots as well on a few occasions. Finished the game with 14pts, and 7 assists.
Side note: Freshman Adem Bona, even in a loss, is a player that I would monitor and I believe is going to be a monster even more down the road. Love his motor, his ability to run the floor, his presence in finishing at the rim, and also being a rim-protector.  Also, Drew Peterson came up big for his team for USC, hitting big shots from behind the arc and with his pull-up game, as he finished with 16 points for the Trojans.