On Saturday, Phenom Hoops traveled out to Winston-Salem, North Carolina for another special open gym feature on Team CP3's 15s, 16s, and 17s. This organization is consistently one of the most talented programs in the state and home to numerous NBA players and overseas professionals. Since basically every player on the roster is a noteworthy name, we will be taking a closer look at some personal standouts from each age group…
6'6 '22 Jalen Hood-Schifino (Montverde)
As previously stated, pretty much every player on this roster carries a reputation as a star in some capacity. However, the brightest stars always seem to rise to the top. In a gym oozing with undeniable talent, Jalen Hood-Schifino was arguably the most impressive prospect on display. Throughout the last calendar year, he's showcased numerous memorable flashes of being a dominant two-way floor general and appears on the cusp of taking another massive step forward in his progression. During the open run, Hood-Schifino was able to get wherever he desired at any point in time. His blend of size, strength, offensive savvy, and continuously improved shooting make him almost impossible to contain. He didn't make every shot, but his smooth, effortless creation ability should have a lot of folks optimistic for the future. Defensively, Hood-Schifino is still as prominent as ever and utilizes his combination of length, positioning, and anticipation to regularly lock up opponents. He rebounds at a high rate, passes the ball incredibly well, and makes his presence constantly felt in transition. Beyond all of that, his ridiculously high IQ and leadership by example are evident on both ends of the floor. Hood-Schifino is nothing short of spectacular and, despite being committed to Pittsburgh, should continue garnering attention for the remainder of his high school career and thereafter.
6'8 '21 Eric van der Heijden (Millbrook)
While most of their current roster is returning players from last year, Eric van der Heijden is certainly among the most intriguing newcomers. The battle between he and Dontrez Styles was well worth the watch, as they seemed to go back and forth throughout the entire scrimmage session. Van der Heijden is so extremely skilled, especially at his size, and seems to naturally cause matchup problems with his ability to generate shots and score from all areas on the floor. He's a knockdown perimeter shooter with sharp vision, off-the-bounce capabilities, and a reliable inside-out scoring arsenal. The degree of difficulty on some of his attempts (and makes) was absolutely insane, especially with noteworthy defenders draped all over him. As much as he can operate on the perimeter, van der Heijden is also quite useful inside the arc. He can be stationed at the high post and initiate offense or establish himself near the basket—where he's shown the necessary craftiness and toughness to score from the block as needed. It's easy to see why van der Hejiden has collected a slew of high-major offers, but picking the right fit could be a major factor in his potential success beyond the collegiate game.
6'8 '21 Dontrez Styles (Kinston)
After being their clear leader last year, Dontrez Styles returns as a major piece and someone that continues to take steps within his progression. He offered his usual amount of defensive peskiness and versatility, but also highlighted a lot of promising tools on offense. Styles shot the ball at a pretty solid clip from the perimeter while regularly working off the dribble and creating for himself. His size, length, and athleticism allow him to toggle between either forward position with relative ease. He's a great rebounder that can push the break or run the floor in transition. Styles moves quite well without the ball and shows a willingness to take advantage of mismatches and easy scoring opportunities whenever possible. Despite already being committed to UNC, don't be surprised if Styles continues trending upward and making strides within his game over the next twelve months.
6'0 '21 Breon Pass (Reidsville)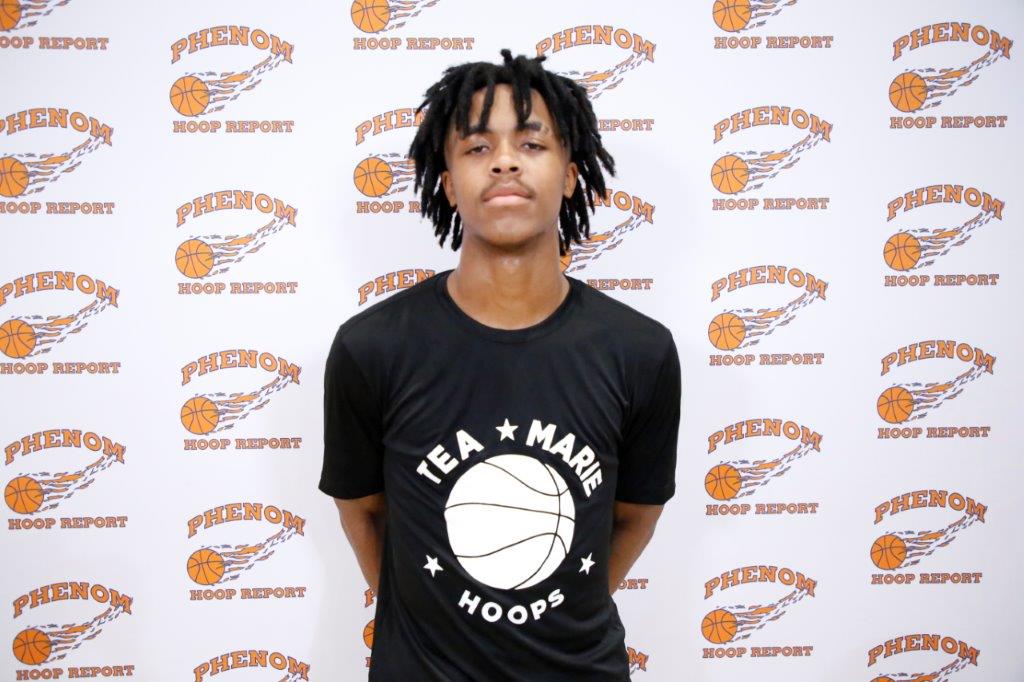 Over the last four years, few players have been as steady and consistent as Breon Pass. Not only has he been the dominant leader for Reidsville, but also his presence with Team CP3 has been widely underappreciated. Though Pass wasn't necessarily dictating the action, the context of his showing was what should be considered impressive. Just at six-feet tall, he was matched up against a long, athletic six-foot-six opponent and still managed to make a ton of plays. Pass scored the ball at an efficient rate, made smart, heady plays off the dribble, and offered a very scrappy defensive presence. His combination of athleticism and smooth tendencies make him somewhat unique, and his cornerback quickness is quite evident when defending the ball. Pass has also added noticeable strength throughout his frame and still welcomes physical play on both ends of the floor. He rebounds well for his size and position, and can legitimately operate from either backcourt position. Pass deserves to be in the conversation for top point guard in North Carolina's Class of 2021 and should continue to stand out as one of the state's most productive nightly performers during his final high school season.
(DNP: MJ Rice (injury; drills only), David Dixon, Terquavion Smith, and Bobby Pettiford)