On Saturday, Phenom Hoops traveled out to Winston-Salem, North Carolina for another special open gym feature on Team CP3's 15s, 16s, and 17s. This organization is consistently one of the most talented programs in the state and home to numerous NBA players and overseas professionals. Since basically every player on the roster is a noteworthy name, we will be taking a closer look at some personal standouts from each age group…
6'5 '22 Donovan Atwell (Davidson Day)
It seems like the "best shooter in the state" conversation gets revived every few months. There is still a discussion to be had but there are only two worthy candidates, and they happen to play on the same travel team. In all honesty, Donovan Atwell might truly be the best shooter across North Carolina—regardless of class. Despite possessing great size and length, his slender frame can make him appear somewhat unassuming to the opposition. However, it actually seems to work to his advantage, as it allows him to run around and slide through the smallest of spaces. Even if Atwell's assignment stays glued to his hip, it doesn't seem to matter. His release is incredibly quick and only requires a glimmer of daylight to get off clean looks. Being left-handed also plays a role in how difficult he is to contain, as most opponents seemed to still close out towards his right hand. The preparation prior to his shot is also noticeable, specifically between his legs, footwork, and ready hands. If Atwell can get it in the air, the shot is almost guaranteed to connect. In terms of catch-and-shoot threats, he should certainly be atop the list. He also showed IQ, defensive prowess, the ability to take opponents off the bounce, and the necessary vision to make quality passes to open or cutting teammates. It's very surprising that Atwell hasn't already collected ten-plus Division I offers, but that's almost guaranteed to change over the next six to eight months. 
6'5 '22 Michael Zanoni (Greensboro Day)
Although Atwell is a leading candidate in the "best shooter in the state" discussion, so is his counterpart in Michael Zanoni. Again, that conversation is officially a two-horse race. Though he's always been tabbed as a premier shooter, Zanoni has continually added wrinkles within his game andsomehow became more consistent along the way. Not only is he an elite three-point shooter, but Zanoni is also knockdown from the midrange area and has the necessary creation skills to access (and make) quality shots from either area. Like Atwell, he's brilliant at cutting and moving without the ball to set himself up for success. Zanoni showed the instincts and willingness to attack closeouts at the appropriate time, where he was able to finish around the basket or make the right pass to an open teammate. He can assume some secondary ball-handling duties when necessary, but typically works as an off-ball threat. It's difficult to envision a scenario where Zanoni isn't coveted by an abundance of Division I programs over the next few years, especially after transferring to be a major cog within one of North Carolina's most notable high school programs in Greensboro Day School.
6'3 '23 Jaydon Young (Greensboro Day)
There are so many exciting, youthful prospects within the Class of 2023, but Jaydon Young has more than solidified his spot within the upper echelon. For starters, he exudes poise and confidence as well as any guard in the state. Young is a smart, crafty guard prospect with a quality blend between playmaking and three-level scoring. He has great size and understands how to utilize his body when navigating through traffic or attacking the basket. His movements with the ball in his hands feel very natural, not forced or rushed, and allow him to consistently dictate the offensive action. Young rebounds the ball well for his size/position and knows how to cause problems for opponents in the open floor. Between his decisiveness and decision-making, Young only requires a split-second to breakdown the defense and make his move. Beyond his obvious offensive appeal, he stands out as a pretty reliable defender with great positioning and first-step anticipation. The future is glaringly bright for Young, which should have high-level coaches on the prowl throughout the foreseeable future.
7'0 '22 Christian Reeves (Cannon)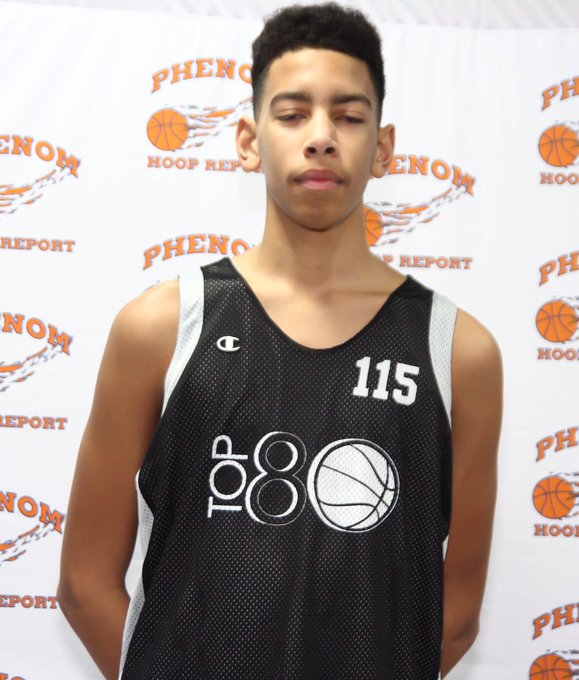 With the "big three" departing from North Carolina's 2022 Class, it has quickly turned into an open race for the top spot. There have been a few bumps along the way, but Christian Reeves still possesses an incredibly impressive array of tools and could find himself within that conversation sooner than later. Though he was the tallest person in the gym, he still showcased a lot worth getting excited about. Above all else, his fluidity as a seven-footer is something that will immediately jump out to any spectator. Reeves is a great rebounder, rim-protector, and runs the floor like a gazelle in transition. He's continued to gradually add strength without compromising the smooth way he glides down the court. Reeves played with solid aggression and highlighted an understanding of how to properly utilize his length around the basket—both as a scorer and shot-altering presence. He's a nice athlete with touch and unselfishness, which allows him to embrace his identity very well on both ends of the floor. It's still somewhat early, but Reeves has the chance to warrant a lot of attention from Division I coaches over the next few years.
(DNP: DeAnte Green)