On Wednesday, Phenom Hoops traveled out to Quality Education Academy in Winston-Salem, North Carolina for our annual open gym tour. The Pharaohs have consistently been among the most talented teams in the state over the last five-plus years, but the hiring of Andre Gould made things even more intriguing for the program. His ability to accumulate talent has always been visible, as QEA (and previously Winston-Salem Prep) always seem to have a slew of noteworthy names from the Triad area. This current group should be recruited by a variety of different college coaches, as there is something for all types of levels here. Let's take a look…
6'7 '23 Tyson Barrett
Although numerous guys were sidelined, Tyson Barrett had no issue showcasing his length, explosiveness, and useful skillset. His calling-card typically lies within being the most athletic player in the gym, but has the flashes of skill and versatility to cause matchup problems for opposing forwards. Barrett finishes strong with both hands around the rim, but also showed the ability to knock down jumpers at a solid clip. He's a capable ball-handler for his size/position and can overwhelm opponents with his blend of fluidity and sheer activity. Barrett is arguably at his best in the open floor, but moves well without the ball and positions himself to make plays on both ends. He's a solid passer with toughness, rebounding ability, and defensive instincts. Expect a healthy range of programs to get involved throughout the upcoming season.
6'6 '23 Nigel Okwakol
Another new addition to the area, Nigel Okwakol will provide the team with a strong, athletic, versatile wing/forward presence. He highlighted feel, toughness, and a pretty well-rounded offensive skillset. Okwakol is able to cause matchup problems, as he's too strong and physical for most wing opponents and too skilled and mobile for majority of forwards to contain. He's a strong downhill penetrator with the ability to make reads, finish through contact (or above the rim), and hit jumpers at a respectable percentage. Okwakol knows how to grab boards and reliably push the break in transition, but can also run the floor and fill the lane if needed. His adaptability (in addition to everything stated above) should make him a very valuable piece for this group. Various types of scholarship-level programs would be smart to take a look.
6'3 '23 Nick Quick
Despite somewhat of a limited viewing, Nick Quick is definitely a college basketball player who will likely fetch some intrigued stares during the upcoming months. He's a long, wiry, athletic wing prospect with a calm, quiet demeanor on the court. Quick displayed the ability to knock down jumpers and fill in the gaps whenever possible, but stood out as arguably the most athletic finisher in the gym. He's a capable cutter and creator who can find success with or without the ball in his hands. Quick should warrant attention over the coming months.
6'10 '24 Bobby Cannon
Plenty of people should know about Bobby Cannon and his polarizing basketball identity at this point. At a long, slender 6-foot-10, he possesses an incredible array of tools and flashes of skill. Cannon did not hit jumpers at his usual percentage during this particular showing, but has shown his ability to handle the ball and knock down shots at a high level. He's a quality athlete with the necessary wingspan to overwhelm opponents despite not having a ton of strength. Cannon moves very well for his size, passes the ball nicely, and can finish above the rim with relative ease. He's a solid rebounder who positions himself for success and should only get better as his body continues to mature. The same is true regarding his rim-protection, as his instincts are already quite evident. Expect his recruitment to continue steadily progressing along with his game over the next calendar year.
6'2 '24 Jermaurhiyun Anderson
Clearly set to be the primary ball-handler for this group, Jermaurhiyun Anderson will be a key piece for the Pharaohs. He's a smart, tough, rugged lefty guard with a tight handle, solid vision, and the necessary quickness to get where he wants on the floor. Anderson is a capable perimeter shooter, but usually looks to touch the paint and make plays whenever possible. He's a quality defender with sharp instincts, a high motor, and the ability to outwork his assignment on both ends of the floor. Anderson offers a pretty straightforward, well-rounded identity, and should have no issue being an impactful piece for this group. Like the rest, he should see a healthy variety of schools getting involved.
6'4 '24 Armaan Benitez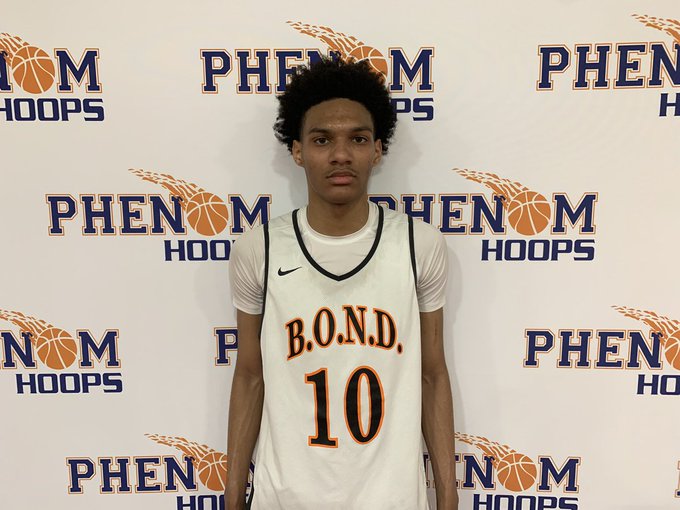 There's a lot to like with someone like Armaan Benitez, who has always been a useful player but really burst onto the scene over the recent summer months. He's a long, athletic wing prospect with a solid skillset and open-floor ability. Benitez is a strong finisher with a great frame, unselfish mentality, and nice feel on either side of the ball. He hits jumpers at a quality percentage, but looks to attack the basket whenever possible. Benitez utilizes his length well defensively, competes on the glass, and understands how to fill in the gaps offensively. Although he might not have as much buzz as some others, Benitez will be a nice player at the next level.
DNP:
6'2 '23 Keyon Webb
6'5 '23 Anthony Reeves
6'3 '23 Jalante Edwards